Review aims to improve student union governance
SMUSA is participating in a policy changing review that aims to improve consistent practices among Students NS Union governance.
November 3, 2014, 9:44 PM AST
Last updated November 25, 2014, 9:47 AM AST
Students NS has an impressive "about" page on its website.
"We give students a united voice in Nova Scotia, helping set the direction of post-secondary education by researching challenges, identifying solutions, and creating the political space needed for these solutions to happen."
Right now, they're identifying some internal solutions.
"What they want to do is examine how they can become more accountable, responsible, and democratic," says Michael Hughes, a PhD candidate at Queen's University. He's undertaking a governance review for Students NS that aims to solve these issues.
Transparency and accountability have become top priorities for the Saint Mary's University Student Association.
The controversy over the "rape chant" captured on video during last fall's orientation week casts a big shadow, and Vice-Chair Ryan Hamilton says the week highlighted problems in governance policies and issues regarding respect and equality that must be addressed.
The acting association president at the time, Jared Perry, stepped down after the incident – he was one of the student leaders present at the frosh week rally where new students repeated the chant. But there were no rules in place to force him to resign*.
Another problem is structure, says Hamilton. "When student associations were formed back in the '60s, they were non-profit advocacy groups that basically followed a high school council model" and tackled modest projects, such as organizing a dance.
Student unions have grown into mini-corporations, with the main goal of advocating student rights in the way that labour unions lobby for nurses or electrical workers. The campaigns they run are akin to those of political parties. One such effort is encouraging the Nova Scotia government to re-invest in the graduate retention rebate, an income tax break that was cut this year.
They've graduated to the big leagues, but the governance structure for many has not caught up to the evolution.
This is where Hughes enters the picture, helping student organizations become more responsible and democratic.
Hamilton says that a high turnover rate among elected students means leadership can vary from year to year. The positions within the union are temporary. People graduate and move on or don't run again, and insights into how to run the organization may not be passed on.
While a hired staff helps to maintain a consistent presence, decisions are made by elected students whose terms only last one to two years at a time, in the case of Saint Mary's Student Association's board of directors, and upper management.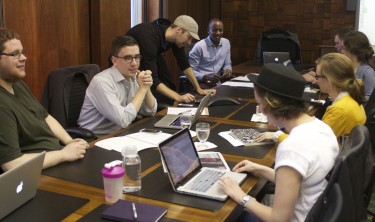 Also, when they are elected, student union representatives must keep their marks above a certain average to stay in office. That can lead to more focus on studies, and less on student advocacy, as the term progresses.
The hope is that, by January 2015, when the review is slated to be complete, Nova Scotia's unions will become well-organized associations run by students and accountable to the students they represent.
*At the time, they were unable vote out a Director without them missing 3 meetings or being convicted of a crime. Since then, policy has changed and such an act would require a 2/3 vote.