Revisiting SMU's smoking ban
November 3, 2014, 11:24 AM AST
Last updated January 13, 2015, 11:32 AM AST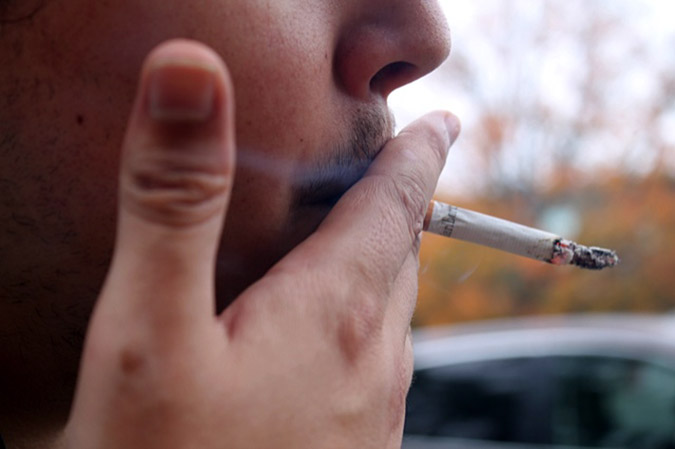 Cigarette butts pile up on the sidewalk outside the Saint Mary's University Loyola Residence, which forms the university's southern boundary at Gorsebrook Avenue.
Neeraj Awasthi, 27, points to a trashcan where the campus officially ends. Students simply step over the boundary, where smoking is permitted, and light up, he says.
In August 2012, the university's Smoking Policy Working Group recommended "increased restrictions" on smoking policy and expanded the no-smoking areas on campus.
"Within the context of universities and colleges, tobacco free policies have been shown to reduce smoking, particularly among students who were not regular smokers before entering university," said a circular released by vice president, administration Gabrielle Morrison.
Morrison's circular also made it clear that by September 2013, the ban was extended to the whole campus.
Saint Mary's University's Atrium, a busy thoroughfare for students grabbing a coffee between classes, has become a centre for the university's tobacco-free campus policy publicity campaign.
"At the coffee shop we had a monitor and it had a countdown clock that showed how many days until tobacco-free and it had tips on smoking and tobacco cessation," says university spokesman Travis Smith.
Banners proclaiming a tobacco-free campus were erected around campus. One proudly declares, "We have cleared the air."
Every few metres, a banner will relay the message in Mandarin or Arabic – a nod to the large international student contingent at Saint Mary's.
But how effective is the ban?
"The smoking ban doesn't make a difference," says Yi Lin, 20, a commerce student from China., acknowledging that the number of smokers on campus doesn't appear to have changed.
Awasthi, a master of business administration student from India, thinks the ban is a move in the right direction, but unrealistic. "People seldom follow the law… students hide from security to smoke."
Surveys conducted before the ban showed 20 per cent of the Saint Mary's student body smoked. Many that continue to smoke are international students.
"Anecdotally, I think if you look around campus and see who's still smoking, certainly there are pockets that are international students who smoke," says Smith.
Nearly a third of Saint Mary's students come from abroad. Both Awasthi and Lin point to the fact that that public spaces are treated differently in their countries.
"You can't get students to come from abroad and quit smoking overnight. It takes time," says Awasthi.
Students have suggested that a designated smoking area be established. But that won't happen, says Kelly Thompson, a coordinator at the university's Health and Wellness Centre.
After the ban went into effect, Thompson held a quit-smoking session to help students, faculty and staff to kick the habit. Only nine students showed up, most of them international students.
As for the campus being tobacco-free, many students continue to light up — on campus or next door — only with more caution.