SMU students debate sexual climate on campus
SMUSA links up with StudentsNS to get students talking about how to change campus life for the better
November 6, 2013, 4:07 PM AST
Last updated January 10, 2014, 8:49 AM AST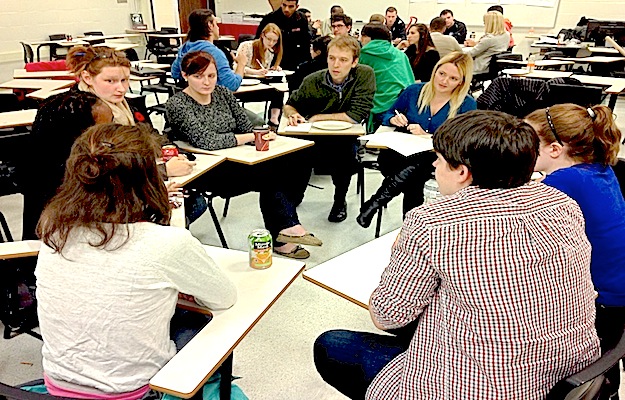 Over half the students who attended a Saint Mary's University student meeting last night felt the school got a bad name for their frosh chants back in September.
The school received national media attention after students chanted a song that seemed to support non-consensual sex.
The meeting was hosted by the Saint Mary's Student Association and StudentsNS, who were all ears and ready for action.
One female student, out of the 40-something students who attended the discussion, says the chant was harmless – just like the vulgar songs of this generation. The sing-along effect, she argued, was a chain reaction of being in the moment.
Though some people have forgotten about the chant, there was an elephant in the room everyone wanted to get out of the way: the school's reputation after the fall scandal.
Colleen Jessome, an international development student at Saint Mary's, says she didn't feel comfortable participating in the chants because of the aggressive content.
But, Jessome adds, the media took it way out of hand for what was supposed to be a harmless way to get students pumped up.
"The thing that bothered me the most was how SMU began to hold a bad reputation, when many other schools have repeated the same or worse chants before. I was embarrassed when my family and friends back home began to say things like, 'oh I saw your university on the news today,' in disapproving voices. And 'wow, great choice Colleen.' (Those) words hurt because I know SMU is a great school."
The topic of safety on campus got a group of eight female students in a heated discussion, who also agreed that reports on the chants were blown way out of proportion.
The women also said that they've never feared for their safety or felt disrespected while being on the Saint Mary's campus.
A representative from the student association board, Venktesh Sharma, says "SMUSA recently had an Avalon sexual assault training session last Friday and (they) look forward for more partnership with other consultants and institutes for more educational sessions."
At the meeting, Jonathan Williams, who is the director of Students Nova Scotia, a non-profit advocacy group that represents 38,452 of the province's student population, said the team is working on collaborating with sex shops such as Venus Envy and sex educators such as Sue Johanson to teach students about safe sex.
The Dalhousie Student Union is familiar with Johanson's demonstrations, since they bring the Sex with Sue event every year for their frosh festivities.
A. Wayne MacKay, a law
 professor at Dalhousie University and chair of the task force examining sexual violence prevention, was a guest speaker at Tuesday's session.
MacKay explained to the students how the school is moving forward.
The council recently created a website where students can send anonymous feedback on how they feel the school has improved since the chants.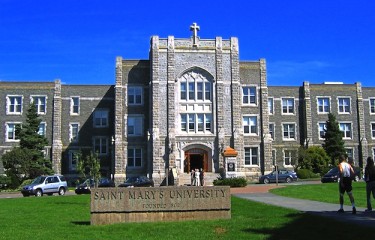 He says the team's mandate is to make the campus a safe space for students that prevents sexual violence and promotes a healthy environment.
Sharma says his mission since he was elected back in April has been to create awareness among students on what resources are available to them.
He says students were always complaining about how they never had a say in the chant debacle. But when the time came for someone to do something about it, no one did anything.
He's happy students are now finding their voice.
"These kind of events are initiating students, who are having trouble on campus, to come out and talk with no judgment. They know there are people (here listening) who are powerful enough to make (a change)."
Sharma, along with the four other board members, gathered all the comments and discussion outlines by students from this evening's debate.
He says the group will present them to the university's board of governors and the director of student services, Keith Hotchkiss, by the end of next week.
"Students have a lot of power. The chant was wrong and we don't want to give that message to our students. SMU along with SMUSA is doing everything they can to educate students and staff now."
Sharma thinks events such as this one will make students more comfortable in coming forward to protest changes needed for each university.
______________________________________________________________________________
There's no doubt a process of change could erupt in the future. But as for right now, another open space event is being held this Thursday for those who have other problems to confront.

Loading ...