Sanctions squeeze Iranian students
Study permits, visas and finances affected by Canada's sanctions against Iran
November 23, 2012, 1:39 PM AST
Last updated November 26, 2012, 11:33 AM AST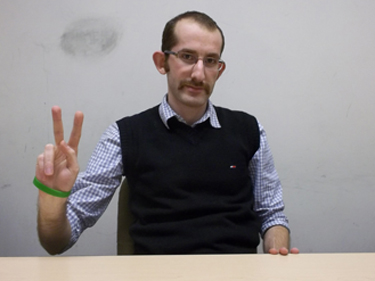 Iranian students are feeling the squeeze of sanctions after Canada froze diplomatic relations with Iran.
Canada closed its embassy in Iran and expelled all Iranian diplomats from Canada in September. The suspension of relations with Iran has left many Iranian-Canadians and international students in the lurch. There is nowhere in Canada for Iranians to receive passport, documentation or consular services, and transferring money to and from Iran has become increasingly difficult.
"You cannot renew your passport. If you want to renew your passport you need to send your documents to the United States," says Sepehr Rassi, president of the Iranian Students Society at Dalhousie.
Iranian students now need to access consular services in the United States through the Pakistani embassy. If the student is not a landed immigrant, it would be considered illegal for them to stay in Canada without a visa.
Mairead Barry, associate registrar at Dal, says obtaining the required visas and permits to study in Canada may be harder to obtain altogether.
"We do find that students from countries where there are sanctions are less likely to receive a permit or visa for other reasons, as well as financial reasons."
In order to obtain a study permit in Canada, students need to provide:
A valid passport
A university acceptance letter
Evidence of adequate funds to live and study in Canada
A letter from a sponsoring agency, if applicable
Documentation demonstrating strong ties to their  home country
Canada's sanctions against Iran make it difficult for money to move in and out of the country, so providing evidence of adequate funds can be difficult.
Financial transactions between Canada and Iran are barred, with the exception of non-commercial transfers to family members limited to $40,000. But for Canadians to use the exception they need to prove the the transfer is non-commercial.
Chrystiane Roy, a spokesperson for Foreign Affairs and International Trade Canada, says in an email that "How the financial sanctions are applied to any individual account is determined on a case-by-case basis," and that those with affected bank accounts "may apply to the Minister of Foreign Affairs for a permit allowing them to engage in transactions that would otherwise be prohibited by the sanctions.
Rassi says there are three different groups of Iranian students in Halifax: international students who get money from scholarships and grants, international students who are transferred money from Iran to pay for their education and Iranian students who moved to Canada with their families.
Rassi says the students who are transferred money will have the most problems.
"I see there is a stress in many of my friends and many of the students who live here," says Rassi. "I've heard some students want to go back to Iran because they cannot afford tuition, expenses of living here anymore.
Barry says there are approximately 57 Iranian students studying at Dal this year.
According to Dal's fee calculator, an international undergraduate student can expect to pay anywhere from $12,136 to $17,486 for tuition depending on their program of study. Books and residence can add more than $10,000 to tuition.
Taking into account hyperinflation and the depreciating value of Iran's rial, converting to Canadian dollars can be costly.
On Thursday one Canadian dollar was equivalent to 12,280 rials. A year ago, one dollar was closer to 10,380 rials.
Rassi says he is fortunate because he has a student loan, but over time the sanctions could take a toll on his financial well-being.
"I have to have some more money to pass my monthly needs," he says.
Services available
Universities are able to assist their international students from countries under sanctions through international centres.
Kewoba Carter, an international student adviser, says advisers at Dal's International Centre meet with students on a one-on-one basis and help them with issues ranging from immigration to study visas.
"When we know the situation for certain groups, we are more open to that," she says, citing the Democratic Republic of Congo, Syria and Iran as examples. "We have sent out a message to students, 'If you're encountering any issues at all come and see us.' If they don't come and see us, we don't know and can't help them."
Carter says Dal has been in contact with other universities regarding Iranian sanctions and is "monitoring the situation closely."
Saint Mary's University currently is not offering special services to Iranian students.
SMU does not "have that many international students from Iran," and therefore "have not had the need for special services with regards to accommodations for students affected by sanctions," says Ysaac Rodriguez from SMU's International Centre.
Dal's associate registrar Mairead Barry says the university doesn't have a specific policy for students hailing from countries under sanctions, but it does everything in its power to help students with financial difficulties.
"We work with those students as much as possible so they're able to continue in their studies and hopefully sort out the financial issues," she says.
Barry says there are a number of resources available to students whose countries are under sanctions through the International Centre, but also in the HRM, such as Immigration Settlement and Integration Services.
Barry also says whenever a group is having financial issues, the university also explores options with other organizations.
For example, last year during the Arab Spring, Libyan students sponsored by the government were unable to access money to pay for their tuition, fees and living expenses. Dal worked with the Canadian Bureau for International Education "to find ways to get money released even though there were financial sanctions in place."
"We all work together with these students to help them through the times when there's disruption to their finances," says Barry.
Afraid to speak up
One of the biggest problems may be providing help to those who need it.
Sepehr Rassi of the Dal Iranian Students Society says many Iranian students are afraid to speak about the sanctions because they fear repercussions from the government should they go back to Iran.
"They think they're under control of government secret service agents. If they go back, and this is true… they will go to prison for the simplest things.
"There was a bloggist who was killed in prison in Iran for just blogging about social issues," says Rassi.
Rassi says if he returned to Iran, he might share the same fate as the blogger. On his wrist he wears a green bracelet, a symbol of the Iranian Green Movement, a social movement demanding President Mahmoud Ahmadinejad be removed from office.
"If the government sees that," he says, "they will send you to prison."