Second meningitis case hits Acadia
First-year business student Hope Maryika confirmed as student who contracted disease
February 11, 2015, 5:18 PM ADT
Last updated February 13, 2015, 10:13 AM ADT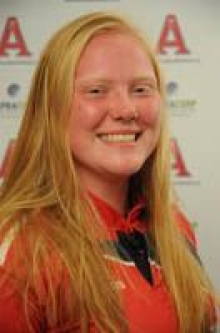 A student-body-wide vaccination could be coming to Acadia University after the school received its second confirmed case of meningitis.
Dr. Robert Strang, Nova Scotia's chief public health officer, confirmed Wednesday that a first-year Acadia student was taken to Valley Regional Hospital Monday morning with meningococcal meningitis. This is the third case of the disease in Nova Scotia in the past month.
Acadia president Ray Ivany confirmed through a release on the school's website that first-year student Hope Maryika contracted the disease. Maryika is in Valley Regional Hospital in stable condition.
According to the release, Maryika was in the same business administration program as Sarah Hastings, who died from the disease on Feb. 1. Ivany said the two did not live in Chipman House together, and that Maryika lived alone off campus. Her hometown is listed as Country Harbour, Guysborough County.
Strang said Public Health has not yet confirmed whether the strains that affected Maryika and Hastings are similar. He said they should know within the next 24 to 48 hours.
"We have talked with the individual in the second case and she is very clear that she knew who (Hastings) was, but she had no direct contact," said Strang.
If it is confirmed that Maryika was infected by the same b-strain as Hastings, Public Health will consider it an outbreak of b-strain meningitis, and they'll take necessary steps to vaccinate the Acadia student body.
Faculty and staff who have individual medical conditions that could put them at a heightened risk of contracting meningitis will also be vaccinated.
"Our approach is going to be offering vaccine to students because they're the population at risk," he said.
If Maryika was infected by the y-strain that took the life of 15-year-old Rylee Sears from Lower Sackville on Jan. 26, a more complicated province-wide vaccination could ensue.
Until then, Strang stressed that meningococcal meningitis is spread only through close contact. To avoid contracting the disease, he says people should limit sharing drinks, water bottles, eating utensils or lip balm, and to follow proper hand-washing practices.
Both Hastings and Maryika were student athletes at Acadia, but not on the same team. Strang said this is likely a coincidence, as being in the same locker room together isn't enough to contract meningitis.
"It's not going to be spread indirectly through environmental surfaces," he said. "That's why we're educating that general contact, or with people in the same program or even people living in the same residence aren't at any increased risk."
Strang said that about 10 per cent of people who contract meningitis die from the disease.
He said if you notice any signs of the effects of meningitis, including a heightened fever, headache, sensitivity to light, neck stiffness or a purplish rash, to call 811 to receive immediate medical aid.