Seniors college experiencing strong enrolment growth
College provides 'exercise on the brain' for seniors
February 11, 2013, 10:25 AM ADT
Last updated February 13, 2013, 3:56 PM ADT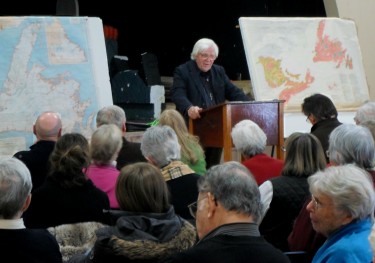 The George Dixon Centre gymnasium is quiet on a Wednesday afternoon as 86 students listen to retired history professor Alan Wilson talk about the development of the Atlantic provinces. Wilson's course is full and there's a waiting list but students aren't here for grades. There are no tests or exams and the students are 50 years old or older.
"It's a very interesting experiment in adult education, "says Wilson.
The Senior's College Association of Nova Scotia or SCANS offers courses for the 50+ age group. A task force from the Association of Dalhousie Retirees and Pensioners created the college in 2007.
"They believed that teaching shouldn't just be limited to younger people. Older people can still learn, "says retired professor Roland Lewis, who is the treasurer and sits on the board of directors for the college.
The college began in Halifax with four courses and 102 members. They now have approximately 500 members and run 30 to 40 courses in the Halifax Regional Municipality, Dartmouth, Tantallon, Clayton Park, Truro and Liverpool. That's an average enrolment growth of 20 per cent per year. Daphna Levit is a member of the college and she says they expanded to Mahone Bay in 2010. Lewis says they hope to expand to communities such as Chester, New Glasgow and the Annapolis Valley because their members prefer taking courses close to home.
Lewis has taught a microbiology course at the college. Experts and retired professors volunteer to teach courses on everything from Zionism to astronomy. The yearly membership fee is $135 and that pays for basic operations including photocopying, a part-time office manager and travel costs for professors. Members can take up to 50 courses but most take six over the course of the winter, fall, and spring semesters.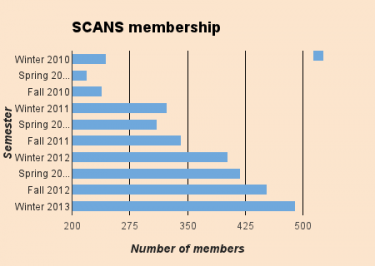 Lectures are once a week for two hours and they run six to 10 weeks depending on the course. Lewis says there are no prerequisites and people come from different life experiences.
Bart Oliver has taken courses about religion and geology with the college. He says he left school in Grade 11 to work and later completed marketing courses at Saint Mary's University.
"When I retired I decided to do a little exercise on the brain as well as the body. I enjoy it," he says.
Rosemary Jost heard about SCANS through a friend who was taking courses and was "thrilled to bits with them." She's originally from England but has lived in Nova Scotia for 40 years. She chose Wilson's course because she wanted to know more about Maritime history.
"I wasn't brought up in this country so I didn't really have a strong understanding of the history of the provinces," she says.
Retired professor Alan Wilson says the college provides a sort of town hall for public discussion. He says unlike young students, older learners understand the implications of events and require less explanation. Wilson has taught history at Trent, UPEI, Acadia, Western, and UBC.
It's a nice way of keeping alive mentally and I suppose the question is what else would you be doing?" Wilson laughs. "For me it means teaching again," he says.
Wilson adds that he enjoys having more freedom to choose the curriculum without interference from administration.
The college also relies on membership fees to rent space. Lectures are held in a variety of places including church basements, community centres, and libraries. They've also approached Mount Saint Vincent University about using its facilities.

Loading ...