Show how you solve problems, conflict: employers
Employers provided advice to students on making an impression at next week's Dal career fair.
January 30, 2014, 11:57 AM AST
Last updated January 30, 2014, 11:57 AM AST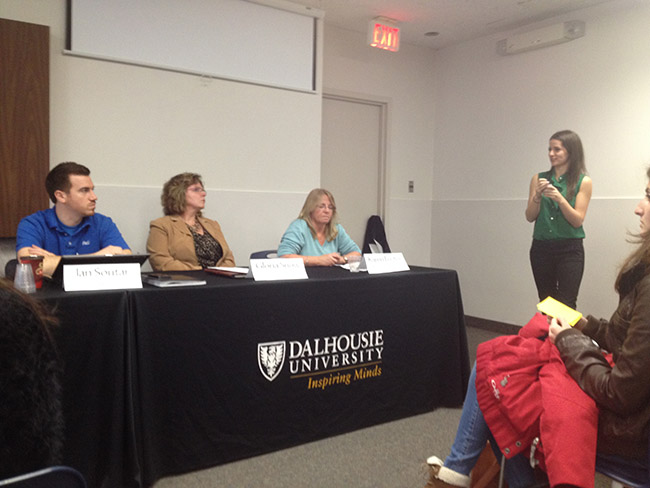 Employers provided some tips to Dalhousie students today on how to make a good impression at the school's career fair next week.
The Prepare for the Fair! Ask an Employer event organized by the university's Student Career & Leadership Development Centre attracted a few dozen students looking for some tips.
The panel consisted of five employers from Target, Procter & Gamble, Economical Insurance and Capital District Health Authority.
Panel members gave advice on how students can impresses them at campus career fairs.
The panelists advised students to avoid arriving with their friends. That way the students can have more one-on-one time to meet and make an impression.
"It's good to have a detailed discussion and engage the employer," said Ian Soutar from Procter & Gamble. "When you meet an employer it's all about telling them what you've done, your extracurricular, how you've worked on a team, how you solve problems, how you resolve conflict. Those are the soft skills that are very important to employers."
All the employers agreed that they look for adaptable skills that can be applied to different situations..
A resume and cover letter are essential to landing interviews and it is important to try and make yourself stand out in a positive light.
"A big pet peeve: grammar and spelling," said Karen Foster from Capital District Health Authority.
The employers suggested doing the basic research about the companies you are interested in before going to a job fair so that you spend less time learning about the company and more time talking about yourself.
Neither Sadie Ghosn nor Lainie Smith from Target expected to end up working retail management positions. However, after meeting Target representatives at previous job fairs they were hired after determining it was a good fit for their skills and personalities.
"It was probably one of the best decisions I think I've made," said Ghosn about ending up at her current job. "I'm sort of running my own business within a business. I oversee everything in the apparel and accessories department. I look after scheduling, hiring and leading a team."
Dalhousie's summer job and career fair will take place Feb. 5 at 11 a.m. Full-time, part-time, summer work and internships are all being promoted at the event. A list of participating employers can be accessed by Dalhousie and King's students here.