SMU assistant professor awarded grant to analyze climate change mitigation
Kate Ervine receives $73,000 to focus on the growth of global carbon markets
January 20, 2015, 1:33 PM AST
Last updated January 20, 2015, 3:47 PM AST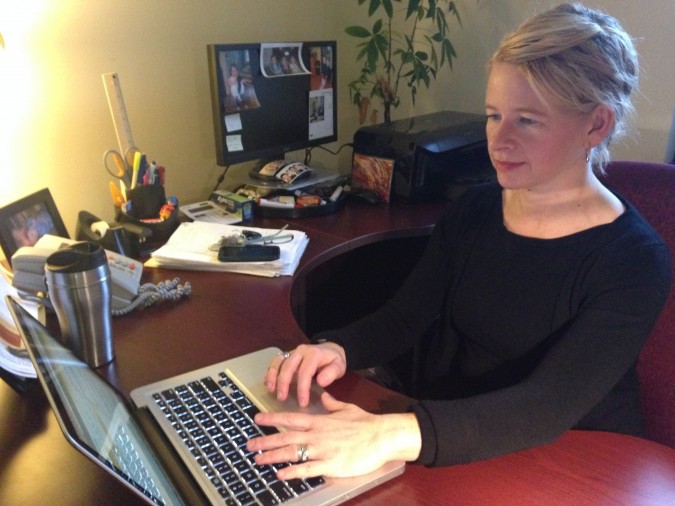 A Saint Mary's University professor is worried about the world that will be left for her kids and is researching the effects of complicated issues surrounding climate change mitigation.
Kate Ervine, international development studies associate professor, has been awarded an insight development grant of $73,000 over two years by the Social Sciences and Humanities Research Council.
She plans to use the grant to examine climate change mitigation, specifically doing a comparative analysis of pre-existing carbon markets. She explains that governments set a cap on emissions, and if it's too expensive for a business to lower its emissions, it has the option to keep polluting by purchasing emission allowances from others who lowered theirs.
In her grant proposal, Ervine asked for two fully funded master's students who will join her for one year to complete an international development master's degree, while working specifically with her on carbon trading.
The pay package for these students is $19,500 and money to attend conferences and do field work.
"I'm excited about it," she says. "It's a nice thing to think that students who want to pursue graduate school, you can give them the opportunity to do it without going into debt and having options to actually do fieldwork without the stress of where the money is coming from."
She says the implications for their careers are considerable, as they are able to work on one specific project and specialize in an issue.
"The reality is more and more people are working on climate change-related issues, because that's the world we live in. Hopefully this will be a good stepping stone for what they want to do next career-wise," Ervine says.
Ervine has also received funding for two other graduate students who will collect raw data on carbon markets.
As for Ervine, she has set marks for what she wants to achieve over the next two years, including field work, attending conferences, research and publishing. Though the funding may be new to her, the project is not.
While earning her PhD, Ervine studied biodiversity conservation in Chiapas, Mexico, and found there was often a contrast between the international institutions funding these conservation projects and what was happening at a local level.
When places like Chiapas were advised to change their ways to earn carbon credit, the price of carbon plummeted in these areas, and investors pulled out.
Ervine found herself "interested in the equity implications of getting poor people to undertake climate change mitigations – not the ones who ever caused the problem – which allows others to continue what they're doing. What happens to their livelihoods?"
"Is this a really good approach if markets are volatile and as soon as things go wrong all of the investment and finances pulls out because it's not profitable? … Are we developing the best strategies, and if we're not, why? … Why do we choose carbon markets versus other strategies? What are the implications?"
It's questions like these Ervine says she hopes to delve into further in her research.
Ervine says that though Canada's federal government is "hostile to addressing the issue" of climate change, she praises some provincial governments for their actions. Quebec has a carbon market linked with California's, B.C. has a carbon tax per ton of carbon dioxide emitted and Ontario is getting ready to announce their plan.
Ervine cites her two kids, three and five, as a source of inspiration in her research. "What kind of world are we leaving them?"
Ervine says she won't stop once the funding runs out.
"I see this as my career project."