SMU football team members' posts mock consent
Even as the university faced intense scrutiny following a frosh week rape chant, members of SMU's varsity football team made posts that trivialized sexual violence
January 27, 2014, 2:12 PM ADT
Last updated January 30, 2014, 12:49 PM ADT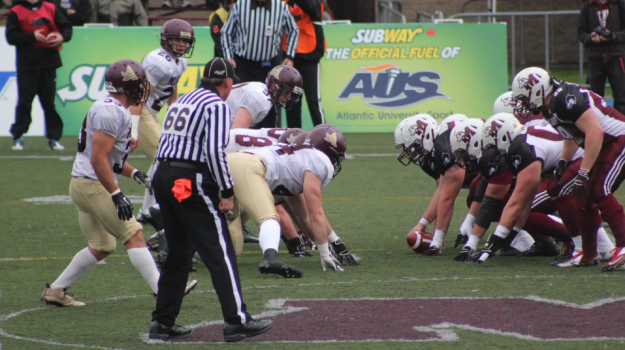 In the months following national attention over a frosh week rape chant at Saint Mary's University, players on the university's football team have been posting public tweets endorsing violence against women, condoning bullying and condemning homosexuality.
The university launched a highly publicized president's council report to investigate attitudes specifically toward sexual violence on campus, however members of the football team have been making posts that denigrate and trivialize the issue of sexual consent.
Rhys Tansley, who is still registered on the roster but stopped playing for the team in the fall, published a misogynistic tweet in October.

He wished mortal violence on one woman later that month.

On Jan. 12, receiver Tyler Ganhao retweeted a message by Bad Advice Dog reading "See a girl who's feeling down? Feel her up."

He favourited a message by Bad Advice Dog reading "No means yes and yes means anal". Favourites are viewable by anyone with a Twitter account.
Perry Marchese, coach of the Saint Mary's University varsity football team, had not been following his team on Twitter when UNews presented him with examples of tweets written by some of his players.
"Some of them are upsetting for sure," Marchese said after being shown five of the players' tweets.
"It's very disappointing to see it. Very disappointing, absolutely."
He has watched their Facebook profiles but to his knowledge, no one at SMU has the job of monitoring the social media presence of student athletes. Most SMU football players are active in social media, with more than a dozen active on Twitter.
Marchese says that earlier in the year, someone pointed out to him his players were tweeting about a party they were specifically told to not mention on social media. Marchese says he had the team run as punishment.
Since then, he hasn't followed their tweets, but has told them repeatedly to watch the image they portray as Huskies.
The players retweet each other, post pictures from their lives and are followed by accounts associated with SMU. 
On Oct. 9 Troy Adams, linebacker, tweeted at someone calling them a fag.

Team members' posts also belittle gays and members of Asian cultures.
On Nov. 10, linebacker Keith Langille retweeted a message by @BroCulture: "School is like a boner. It's long and hard unless you're Asian."

Some of the tweets that could be taken as offensive are quotes from popular media, such as song lyrics.
"The song lyrics, a couple times, have gotten me," says Marchese. "I've seen some stuff put up on Facebook and I'll message them […] and they'll say it's just a quote from a song."
He says he asks them all the time to remove posts he's seen as offensive from Facebook, and that they are constantly educated on monitoring their own social media.
"We preach it all the time, we talk about it all the time and to actually see some evidence that they aren't getting it is a good education for me."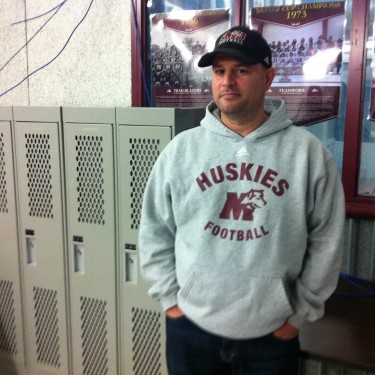 The team's online roster on the SMU website is outdated, including at least two players no longer playing for the team, Rhys Tansley and Jordan Lauther.
But Marchese says he wants his players to have the mentality they'll always be members of the team.
"They're always gonna be perceived as good and bad as a Saint Mary's Football player, no matter what they do – and for the rest of their life, really," says Marchese. "There'll be guys on there who aren't on the team anymore and if something happened with one of them somewhere down the road, it'll still be mentioned: SMU football player."
President's Council Report
The university commissioned a review of campus attitudes toward sexual consent in response to the rape chants at a frosh week event at SMU in September. The President's Council, led by Dalhousie law professor Wayne MacKay, released its report in December. The report contains 20 suggestions for changing the campus' culture.
MacKay was unavailable for comment.
The football team was at a training camp off-campus at the time of the rape chants, but the report contains many recommendations specifically regarding the behaviour of student athletes.
In relation to preventing sexualized violence and fostering a safe and respectful learning environment, the report suggests it is important for SMU to consider "the important role that student athletes can play in shaping peer norms." It goes on to say varsity athletics have a high profile on campus, and "coaches can play a leadership role in changing varsity sport from a culture that is accepting of sexualized violence to one that speaks out against sexualized violence."
Sexualized violence is not a subject that comes up in Marchese's talks with his team.
"I guess you sort of imply it all the time when you talk about being a good community member, being a good student athlete, being an ambassador of Saint Mary's," says Marchese. "We did the Walk A Mile In Her Shoes for Violence Against Women. So, that's one way we educate our guys for sure."
The report mentions some SMU students reported "feeling a 'macho vibe' from the jock culture at SMU and feeling uncomfortable in places like the cafeteria where male athletes were engaged in chauvinistic behaviour involving sexist jokes." Players have used derogatory terms towards women, such as Joel Chapman, offensive lineman, on Dec. 31.

Staci Simpson, co-coordinator of the SMU Women's Centre and a graduate student, sat on the President's Council.
"I'm disgusted," said Simpson upon seeing some of the tweets. "I'm disappointed that this kind of attitude is still there. I'm still not surprised, it's still so deeply embedded in jock culture that I know it's one of the things we need to change."
Marchese has had a copy of the President's Council Report on his desk since it was available, but he has only "flipped through it," not gone through it in detail. He says it is sometimes brought up in coach's meetings.
But Marchese says he doesn't know if he is educated enough to specifically talk to his team about issues of sexualized violence.
He says the athletics department has done work on anti-bullying in the past and it will be jumping back into this. Some of the player's tweets imply violence.

Marchese says the athletics department has lectures where it's mandatory for all student athletes to be in attendance, but he can't say if sexualized violence is specifically covered there.
What happens now?
University president Colin Dodds has approved every recommendation of the report. It says the school should establish a code of conduct that will cover "standards for the use of media and Internet by all members of the university community."
At the same time, SMU communications director Steve Proctor says it would be unrealistic for the university to monitor every tweet made by SMU students.
Proctor was read some of the tweets on Friday and maintained that the university is not responsible for the personal Twitter accounts of student athletes.
Gorba Bhandari, president of the Student Union of Saint Mary's University, agrees it's "hard to monitor everything."
"Hopefully once the recommendations are starting to be in place we would see more awareness talked of in athletics, or in these athletes," says Bhandari, who sat on the President's Council, "and hopefully nothing like this would happen."
Upon seeing some of the tweets, Marchese said he would talk to his team through Facebook.
"I'll say […] I've seen a couple of the posts, a few of the posts, and there's a lot of offensive stuff going on there. You're jeopardizing your chance to stay a Saint Mary's Husky if you keep doing it."
Since then, some members of the team have made their accounts private and deleted tweets. Members of the team did not respond to requests for comment on this story.
In researching this story UNews examined a variety of tweets from student athletes at Dalhousie, Acadia and SMU. No similar patterns were found.
Excerpts from the Twitter feeds of players of the Saint Mary's Huskies Football team