Why consent matters
SMU groups work to shape sexual attitudes
Ten football players aren't the whole school, students say.
February 3, 2014, 12:45 PM AST
Last updated February 3, 2014, 1:10 PM AST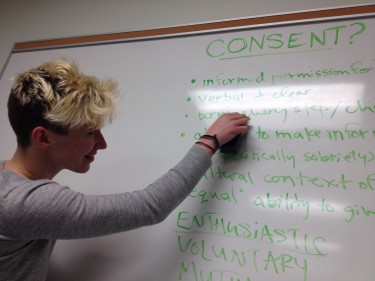 Last week a group of Saint Mary's University students sat in a small room in the school's Atrium. They watched Lil' Wayne and Justin Timberlake music videos, slack-jawed at the not-so-subtle sexism in them. Like women with muzzles in cages.
It was part of a workshop called Consent is Sexy, run by sex shop and bookstore Venus Envy.
For the second time in five months, SMU students are facing scrutiny for making light of sexual violence. But some on campus, like students at the workshop, have been working to change sexual attitudes.
Vulgar and offensive as they both may be, SMU's orientation-week rape chant and recently discovered sexist tweets don't characterize the whole university, says fourth-year student Jason Rondeau.
SMU's Women's Centre, the students' association and the school administration are all fighting against sexual violence on campus.
"I know it's not a problem with the whole school. I know it's not a problem with me," says Rondeau. He's part of the Commerce Society. He also ran in a student election and studied abroad in France last semester.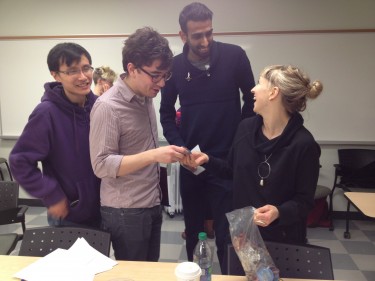 Using the bawdy hip-hop videos, the Consent is Sexy workshop presenters made the same point about sexual violence that university leaders also made last week: it's a social issue not specific to SMU.
Staci Simpson, coordinator at SMU's Women's Center, carries a miniature hairspray bottle in her purse "because pepper spray is illegal."
"I don't feel safe here. But I wouldn't feel safe at any university," she says.
The workshop, says Simpson, was scheduled long before the tweets were discovered but partially in response to September's chant.
"This attitude is not only in athletics. It's prevalent all across campus, and not just SMU's campus. It's not going to go away over night," she says.
Earlier this year when the university was getting attention for its rape chant, the Women's Centre held a "rape rally" against sexual violence. About 100 people came out.
The new president of the Saint Mary's University Students' Association, Gorba Bhandari, was at the consent workshop. The rape chant, he says, "gave us a chance to look at our current practices and try to find ways to fix them."
When Bhandari caught wind of the football players' tweets, he and vice-president James Patriquin published an article on the Students' Association's website outlining changes to make "SMUdents" feel safe and respected on campus.
Here are some of the changes:
• Creating an equity centre, staffed by a student equity officer
• Awareness campaigns to bring forward issues like bullying and consent
• Mandatory sensitivity training for elected and executive student staff
"I don't want to say I hope this blows over because then we didn't learn from it and that would be a mistake," says university representative Steve Proctor.
In the next couple weeks, SMU administration will announce the team it has hired to carry out 20 recommendations for a safer, more respectful school. Proctor acknowledged the recommendations wouldn't have been written if the chant wasn't brought to the school's attention in the first place.
Jason Rondeau, who returned from studying abroad three weeks ago says he's always happy to be on campus. "Europe was good, but the school experience was nothing like I got at Saint Mary's. I'm really proud of my school."
He also says after watching the news last week he's embarrassed to show bus drivers his U-Pass. It's got a Saint Mary's University logo on it.