SMU no-smoking sign directed at Chinese students
Some Chinese think a no-smoking sign in their language is important, but others don't
January 26, 2015, 12:40 PM AST
Last updated January 27, 2015, 1:56 PM AST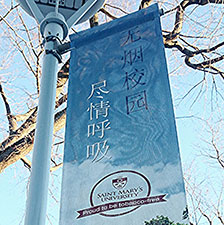 When you walk onto the Saint Mary's University campus from the nearest bus stop, what you find at first is a no-smoking sign written in Chinese.
On the campus, there are signs in English and Arabic too. But one student doesn't feel comfortable with it.
Xiang Li is a King's student in the one - year bachelor of journalism program. He is from China, and felt strange when he visited SMU and found the Chinese notice.
"If the sign is made in specific languages, no matter in which languages, it gives out a stereotyped opinion about those specific group," he says.
A SMU spokesman, however, says the signs are posted for a reason.
"The languages represented on the banners are aligned with our largest student populations," Travis Smith said.
"By offering some signage in different languages we are simply trying to communicate directly with different audiences."
Tieming Wang, an undergraduate business student at SMU, thinks the signs are helpful.
"When I came to this college two years ago, I wasn't good at English. Then I found the Chinese sign and in a moment I could understand we couldn't smoke at SMU," Wang says.
"In China, cigarette is social tool. In negotiation, you sometimes have to enjoy drinking and smoking. Smoking is quite popular in my country. I think 80 per cent of (Chinese) guys at SMU smoke, so Chinese signs can help them because some of them don't understand English when they arrive in Canada."
Smith emphasizes the meaning of the international notice especially in Chinese due to the ratio of international students at SMU.
"Based on our fall enrolment, international students make up 31 per cent of our student population. Of those international students we have nearly 1,000 Chinese students, the largest segment of our international population. These banners are meant to engage different student groups with the tobacco-free message."
He also says using different languages is just one way in which the banners communicate with students.
Xiang Li, however, thinks there can be banners in other languages.
"Basically, I don't oppose the non-smoking sign in Chinese, since there are indeed many Chinese smokers on campus of SMU. However, Chinese students are not the only community smoking in public."