SMU prof's 'women speak first' classroom rule an experiment
Judy Haiven says she hasn't read the comments on her classroom practice
January 19, 2015, 9:51 PM AST
Last updated January 19, 2015, 9:54 PM AST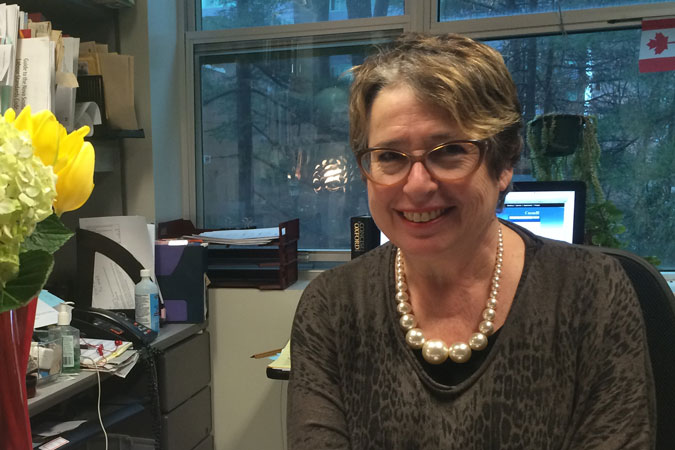 The Dalhousie dentistry scandal inspired the practice Judy Haiven has been using in her management classes at Saint Mary's University since the first day of this semester: women speak first.
"I told (my students), because of the dentistry situation, I'm trying an experiment," Haiven said on Monday.
Haiven said she uses the practice in reaction to the Dal dentistry scandal because she saw that women weren't playing an active role, but were being used like "props" by the Facebook group. Her experiment, she hopes, will make "classroom time more beneficial."
"The dentistry scandal made me more aware of how women often don't have as loud a voice as men, and the fact that with the dentistry scandal that men put out demeaning information and made terrible suggestions on the Facebook group, made me realize that we need to hear more from women, especially women in university," she said in an interview Monday.
"Because I could see in a way how powerless they seem to be in the question of the Dal dental students."
Within her own classroom, something she's noticed "quite often" in more than a decade of teaching, is "there is some bullying that goes on, there are tendencies (towards) competition and to one-up (each other), which tends to discourage women from participating. So if women speak first, it sets a different tone. Even in the last few weeks."
She has tried her experiment in both of the courses she teaches. She calls on women first during a discussion or question period, and will ask the class if a woman would like to speak first, if only male students have their hands raised.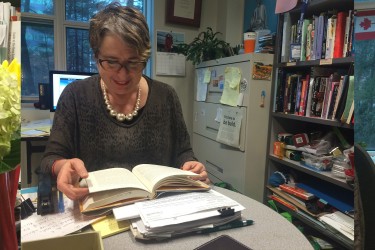 The experiment also extends to group projects.
Haiven said that group projects typically divided the work between men and women by having the women type up the projects and the men present it.
"So I'm trying to reverse that," Haiven said. "I've told them that I'd like to see more women presenting and I've also in one instance asked the men if they can be the scribes, that they take notes, and the women take the notes and present."
During Dalhousie's forum on misogyny on Jan. 15, more than 350 people attended the discussion of two panels. In the first panel, Haiven told the attendees about her classroom experiment. The story UNews posted about the forum has sparked a debate in the comments section, and on social media.
Some commenters claim Haiven's practice is an example of "misandry," or the hatred of men. Others blame the practice for feminism's bad reputation.

Haiven printed some of the comments from the article off, but hasn't read them.
"I try not to read the comments from the commentariat because I find they're generally offensive, and not particularly helpful, I would say. So I haven't heard anything bad back yet," Haiven said on Monday. "I did read a couple of comments, but I didn't read them all."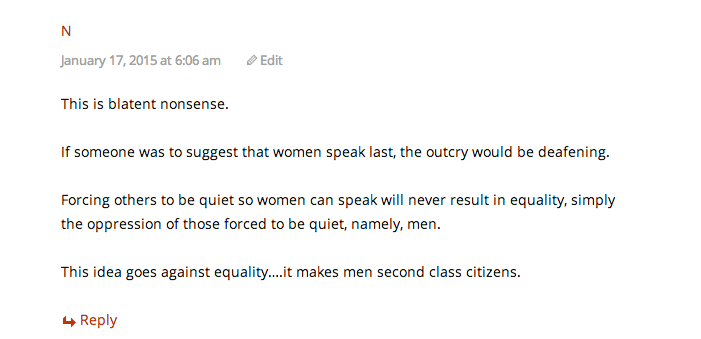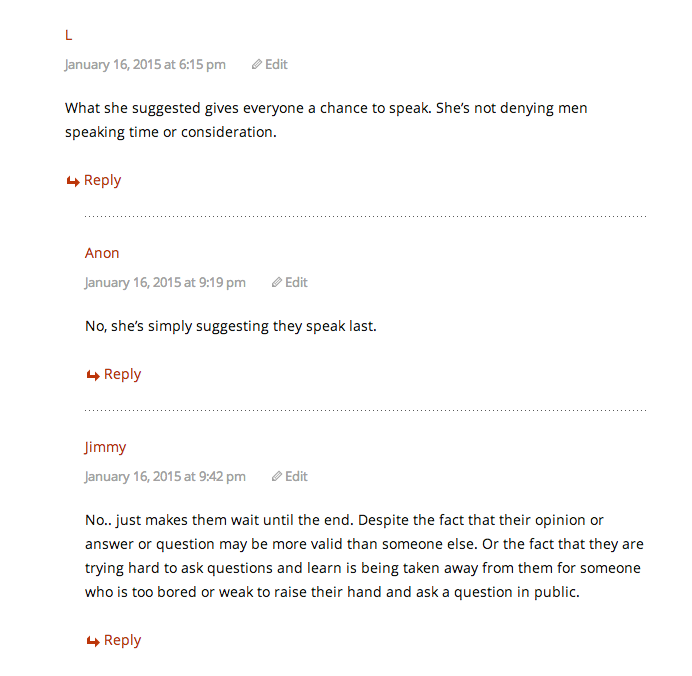 Haiven said she hasn't gotten any negative feedback from students in her classes, but when she first introduced the practice, many seemed nervous. The women may have felt "put on the spot," she said.
A faculty member from another department at SMU told Haiven there were negative responses on Facebook to her idea. Haiven said she thinks the negative responses are because it's a new idea.
Haiven says she hasn't figured out how her experiment applies to people who identify as trans, or who don't identify with a particular gender. She also hasn't determined how race should play into it.
The rest of her department has not followed suit, nor has any other department at SMU that she knows of, Haiven said.