SMU students at parade support street people
Students selling buttons to raise funds for outreach project
November 16, 2012, 4:44 PM AST
Last updated November 16, 2012, 4:44 PM AST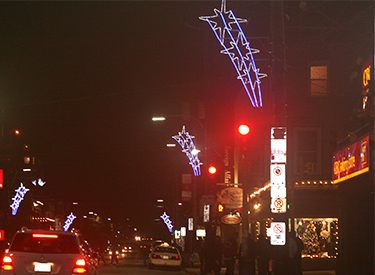 Saint Mary's University students will be volunteering this weekend at the Parade of Lights to help provide assistance for street people.
Each button costs two dollars and the full proceeds will go to the Youth Navigator Outreach project Catch A Falling Star.
"We'll be walking through the crowds," says Alex MacLeod, a fourth-year SMU student who will be selling flashing buttons at the parade on Saturday, Nov. 17 starting at 4:30 p.m.
"I only volunteer for stuff I believe in," says MacLeod, who thinks the project has been doing great work helping homeless people in the area.
The program provides "street-level" support to individuals who are homeless or who live off the street.
EJ Davis, project co-ordinator at Navigator Street Outreach, says it's not about the number of buttons sold, "it's more about the chatter."
Last year, he worked with as many as 300 different street people and helped to find housing for 38 people and jobs for 60. Davis says "yesterday was a good day," when he was able to work with a 65-year-old man whose wife had died and he had lost his home.
"He had been sleeping in his car," says Davis "and we were able to provide him with a damage deposit for a home."
Davis says Navigator Outreach is unique as it takes a "business approach to social street issues," whereby Davis' work is two-fold. He says he spends time walking around downtown, meeting people and getting to understand individual situations. He also works closely with community-based programs.
Nancy Tissington, the executive director of the Spring Garden Area Business Association, says, "I'm really overwhelmed to see that much participation from students, giving their time on a Saturday night during mid-terms."
"I think it's a good way to bring the homeless back into society again," says Amanda Kolwich, a second-year SMU student who is volunteering alongside MacLeod. "It's a positive way to get people off the streets and into the workforce and on their feet again."