SMU students 'claw' their way to robot glory
Robots navigate simulated Mars environment during SMU engineering competition
November 25, 2013, 12:46 PM ADT
Last updated November 25, 2013, 6:20 PM ADT
This story has been updated since initially published.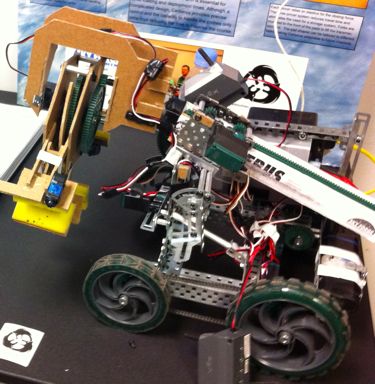 An innovative claw helped one group of Saint Mary's University students navigate a simulated Mars environment in record time.
Engineering students at Saint Mary's spent an entire semester designing robots that could fulfill specific objectives while navigating rough terrain and steep slopes.
Saint Mary's students were required to both design and build the robots as part of their Engineering Design II class.
On Saturday, Saint Mary's students tested the versatility and speed of their robots during a biannual competition held at the Discovery Centre.
What were the objectives?
The robots had to pick up three individual probes, transport them up a 20-degree slope and insert them into the top.
The robots also had to transport a small transmission tower from one location to another, while providing camera views of the move.
Sarmad Alhares, an engineering student at Saint Mary's, acknowledges the project was challenging.
"The hardest objective was picking up the probe, as it had such a small diameter," he said.
Alhares said weight distribution was also an issue. At the end of the rectangular course was a steep incline atop which the probes needed to be inserted.
Students had to keep the robot balanced so that it wouldn't slide back down the slope when inserting the probes.
Alhares said his team also had to shorten part of the claw so that it wouldn't bump into the slope when manoeuvring to the top.
Who won?  
In the end, Sky Forge Engineering managed to complete the objectives first, beating out four other teams.  Their robot Cerberus completed the first round in 4:40, and the second round in 5:06.
Project manager Jean Boudreau said the robot's innovative claw was the key to their success.
The team designed a claw that could pick up all three probes and transport them at once.
As a result, Cerberus did not need to travel back to the holding block for each individual probe.  This unique feature both saved time and reduced the chances of a mishap.
As Boudreau explained, "The more time spent driving, the greater the chance you'll fall off the course."
And he's right.  During the first round of the competition, Team Six managed to transport the transmission tower and probes in a mere 4:09.  But just as the robot was inserting the third probe into the top of the slope, it fell off.
A worthwhile project?  
Win or lose, those who participated in the competition said they learned a lot.
Jeremy Hawksworth, a second-year engineering student at Saint Mary's, said designing the robot helped teach students the ins and outs of project management.  Teams had to work together in order to fulfill objectives and meet deadlines.
"It was a lot of work," said Hawksworth, "but I enjoyed it."
Check out these videos of Cerberus navigating the simulated Mars environment:
Update: Videos of the competition have been added.