SMU's writing centre goes all night for students
National campaign designed to help students where and when they need it most
November 7, 2014, 5:08 PM AST
Last updated November 10, 2014, 10:35 AM AST
Jennifer Weir, a first-year arts student, heard about the Nationwide Long Night Against Procrastination from their website and posters around campus. She came in at 10 p.m. to work on a research paper about Franz Kafka.
"I've never written a research essay, I'd find research but I didn't really know what to take from it and put into the essay."
Weir, who has met with tutor Jamie Achenbach in the past, hopes to get ahead on her assignment.
"[This way] I won't do it the night before," she says.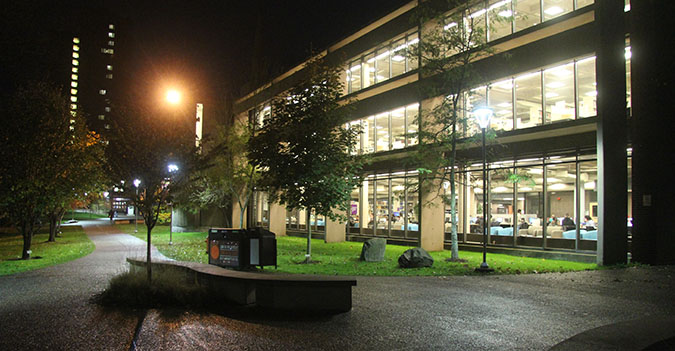 The Saint Mary's Writing Centre doesn't encourage all-nighters, but their services were available overnight for students from Thursday evening to Friday morning.
The writing centre hosted the event in conjunction with the Canadian Writing Centre Association and universities across Canada.
"When crunch time comes, you have to get the work done," says Brian Hotson, the director of SMU's writing centre.
The program first began at SMU in 2012. The idea for a national event came this May after talking with representatives from Wilfrid Laurier University in Waterloo, Ont.
According to Hotson, this event caters to the "non-traditional" hours of these students.
"Our idea is [to] go where the need is. So if the need is for students to get the work done, and they're staying up getting it done, that's when we should be helping them," he says.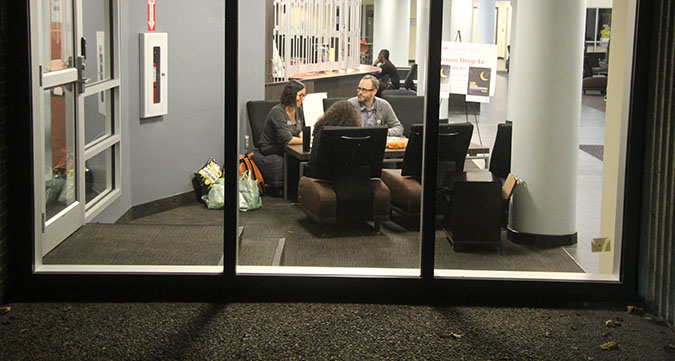 "There's maybe a handful that actually stay up all night," says Hotson.
"A lot of students will come in for four hours then go home," he says. "Some students actually like to come in early. Some students will be here at 6 a.m."
He doesn't want students to stay up all night, but for many that is their only option.
"A good portion of the students who come to this event are just trying to get their work done," says Hotson, who at 1:30 a.m. Friday morning had 100 students in the atrium beside the Patrick Power Library.
"Saint Mary's has a very high percentage of students who are single parents, or are parents, also a very high percentage of students who have one or two or three jobs."