Spreading a wave of positivity at Dal
January 13, 2015, 5:03 PM AST
Last updated January 13, 2015, 6:42 PM AST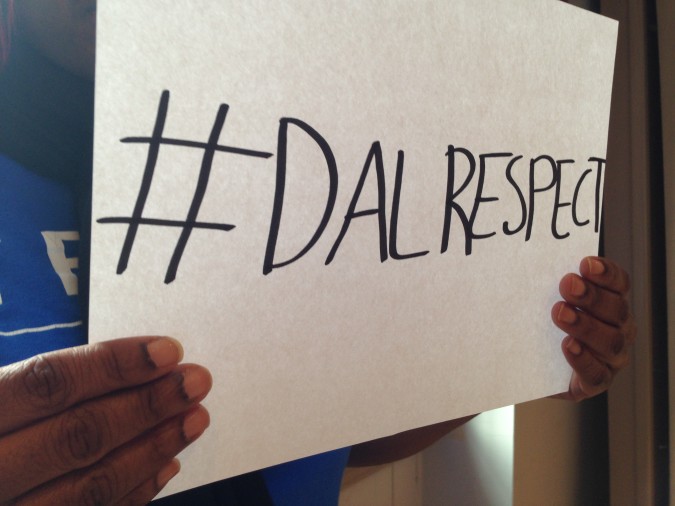 In the wake of the Dalhousie dentistry Facebook scandal, a student association hopes to remind students of better times on campus.
The Student Association of Health and Human Performance (SAHHPer) recently posted a series of photos on Facebook promoting respect on Dalhousie's campuses.
"Because we're a part of the faculty of health professions, we thought we should acknowledge the dentistry issue," says association president Rachele Manett. "Everyone has their opinion of what should have been done. We're just trying to take a proactive approach to it."
The photos show students holding up signs saying how they respect students at Dalhousie. They also include the hashtag #dalrespect, which was started by Dalhousie president Richard Florizone's office.
"[The hashtag] seemed really relevant," says the third-year therapeutic recreation student. "That's what we wanted to get at. Just respect at Dal and within our communities."
Manett says she hasn't seen any other student associations respond to the misogynistic dentistry Facebook page. She says the group wants to create a culture of positivity on Dal campus. She says the campaign wasn't directly in response to more critical social media such as the popular hashtag #dalhousiehateswomen.
DalDisrespect is a new Twitter account that contradicts the hashtag put out by the president's office. The Twitter account uses hashtags like #dalhousiehateswomen and #daldisrespect in their tweets.
The Twitter page features an X-ray of a human mouth as its cover photo - a tongue-in-cheek nod to the dentistry scandal.
.@DalPres We demand more & better from you than temporary clinic suspension & class segregation. #DalhousieHatesWomen #DalDisrespect

— Dal Disrespect (@DalDisrespect) January 11, 2022
— Dal Disrespect (@DalDisrespect) January 11, 2022
To the dentistry students who rejected an unchosen restorative justice model: solidarity forever. #DalhousieHatesWomen @DalRespect @DalPres

— Dal Disrespect (@DalDisrespect) January 11, 2022
"Just because everything happened on social media it seemed to make sense to hashtag something," she says. "If in the process it can get rid of kind of an awful hashtag, then why not?"
Manett says many students view social media as a negative thing after the dentistry scandal. She's hoping her group can bring more positivity to social media on university campuses.
"No one looks for the good things," she says. "They only look for things they can critique or say is wrong."