Student Guide: Best (free) Hali-centric apps
For iPhone & Android
January 30, 2015, 2:59 PM ADT
Last updated February 2, 2015, 10:56 AM ADT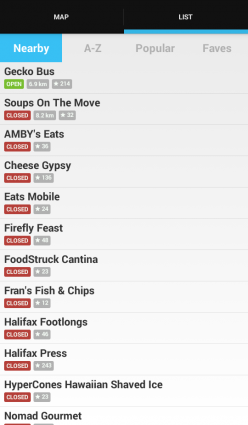 Street Food Halifax (Android & iPhone)
This app has two modes: map, and list. The map is exactly what it sounds like. You're the blue dot and the food trucks are the green (open) or red (closed) points. The list details nearby food trucks and indicates their availability and popularity. Click on the food truck name and you'll see their contact information.
Perks: Food trucks are moving targets. It's a powerful feeling watching them move around halifax from above like a marauder. They should make an app like this for exes.
Downside: It's not a very lively app during Canadian winters. Believe it or not, standing in line to eat a fancy grilled cheese in below zero weather isn't one of Halifax's favourite winter pastimes.
Halifax Pop Explosion (Android & iPhone)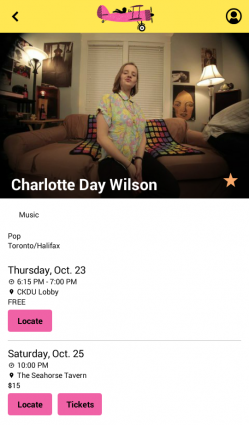 This app is basically the Pop Explosion website in app form. Pages include schedule, lineup and venues. Each artist's bio includes concert location/time and a link to get tickets, just like the site. Something that sets the app apart from the Pop Explosion website is the favouriting option. It lets you separate out the acts you want to see from the ones you're not hip enough to know about.
Perks: Way easier to navigate the jam-packed concert schedule than pulling it up on a mobile browser. Nice to be able to have a concise personal list of shows you are actually interested in.
Downside: Stagnant most of the year (other than the social media tab.) This app is only really necessary after next year's acts have been announced.
Halifax Mooseheads Mobile App (Android & iPhone)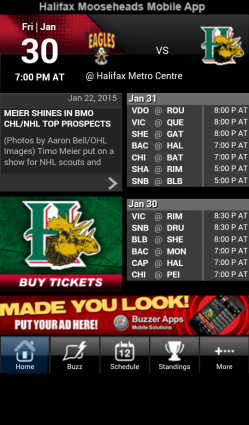 This apps lets Moose fans keep up with the boys throughout the season. There is a "schedule" tab for upcoming games and opponents. There's a "standings" tab to compare how the Moose are doing against  other teams in the division. You can listen to games live, check the roster and check 50/50 ticket numbers as well.
Perks: As someone who is more into hockey for the beer and nachos, I can only guess that this app is a one-stop shop for Moosehead info.
Downside: A bit glitchy on Android, and the "buzz" tab seems to be disabled. You'll have to pick a different social media platform to tell the referee to get glasses.
DalSAFE (Android and iPhone)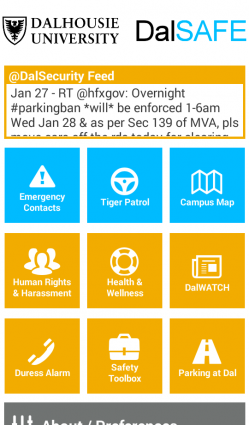 As a woman who walks alone at night more often than my mom would like, I wish I had known about this app before now. The biggest selling point for me is the Emergency Contact button. With just a few taps, you can be connected with campus security service — no Googling or navigating Dal's website. There is also a Tiger Patrol button, a duress alarm, a human rights and harassment advisory number. You can also report suspicious activity on campus. They even throw in a parking button to help you order a parking pass.
Perks: For obvious reasons I didn't test the emergency call or duress alarm, arguably the most important features of the app. If they work like they should, the time this app could save might make the difference in a bad situation. And make parking less of a headache.
Downside: I can't attest to the reliability of the security services on the other side of the phone.
Casino Taxi (Android & iPhone)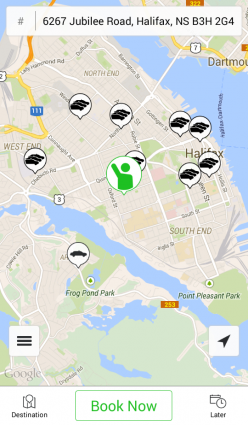 This app connects you with the local company's Taxi Hail account. This app runs similarly to Uber. It places you on a map with several tiny cars, navigating around Halifax. Once you've placed your icon on your map and hit "Book Now," you can confirm your name, number of passengers and pickup time.
Perks: If you choose your destination on the map, an estimated fair will be calculated. Very easy to booking cabs ahead.
Downside: Because this app has many features, you have to create an account (ugh, 30 seconds of my life I'll never get back). Also, there is no card payment option on the app, even though every Casino taxi takes card payment. I can see this causing many a drunk person unnecessary confusion.
(Local cab company, Yellow Taxi, uses Taxi Hail for mobile cab bookings as well, but their app wasn't working when I wrote this)
Transit 360 (iPhone)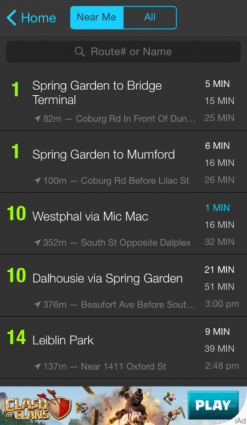 Transit 360 offers two different methods to help you find a stop. The first option finds routes near you, using location services on your phone. It lists nearby buses going in either direction, with the next three scheduled departure times.
Perks: It's quick to deliver. Looks sleek and sexy too.
Downside: This app isn't synched up with GoTime's GPS updated departure times. And realistically, HRM's transit isn't as reliable as we'd all hope.
Halifax Bus (Android)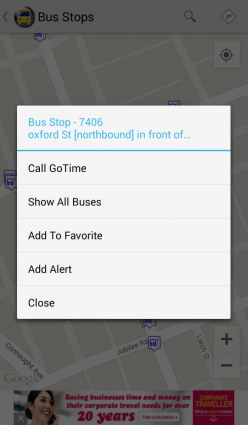 Halifax Bus uses your phone's location services to plot you on a map. When you tap on a bus stop, it allows you to call the bus stop,display the scheduled departure times, save this stop as a favourite, have your phone alert you when you should leave for the bus stop.
Perks: Easy way to call any bus stop from anywhere. Don't even have to leave your bed.
Downside: Not the most visually pleasing app. Also spells "alarm" as "alram" just to keep us on our toes.
Hike Halifax (Android)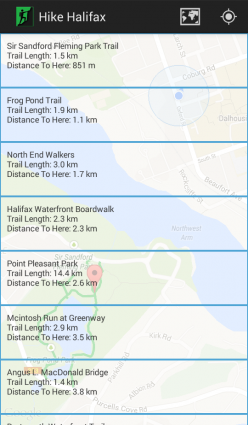 While Dartmouth is dubbed the city of lakes, Halifax, city of trees, boasts a more concrete and industrial vibe. The city lacks in green spaces, especially in the months the Public Gardens are closed. This app maps trails near to you using your phone's GPS. As someone who didn't grow up in the HRM, I was pretty oblivious to the number of trails not too far off the peninsula. Totally going to keep this app in my back pocket for the next time I feel like brushing up on my tree identification.
Perks: Tells you how long each trail is so you know what you're getting into. Also outlines the footpaths on the map, a feature Google maps is sometimes not the best with.
Downside: Loads trails closest to you in proximity. Because of the geography of Halifax, this is not always very helpful. (Example: On Oxford Street, a park just across the arm will be recommended.) Also doesn't offer an option to choose a different anchor point on the map. You can only find maps closest to where you are.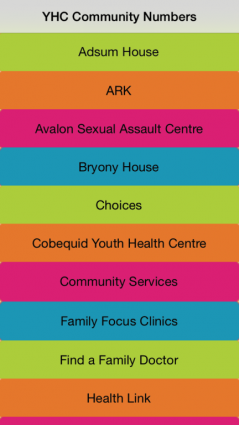 HFX Health Contacts (iPhone)
This app compiles more than 20 mental and physical health resources in Halifax into one app. Tap each resource and a brief description, a phone number and website link come up.
The app connects you with the Avalon Sexual Assault Centre, Family Focus Clinics and the Mental Health Mobile Crisis Team among others.
Perks: Cheerful and simple.
Downside: None. It's a simple directory that does exactly what it's supposed to.