Students bring commentary to King's sports
King's one of two schools that provide commentary
February 15, 2013, 12:38 PM ADT
Last updated February 15, 2013, 12:38 PM ADT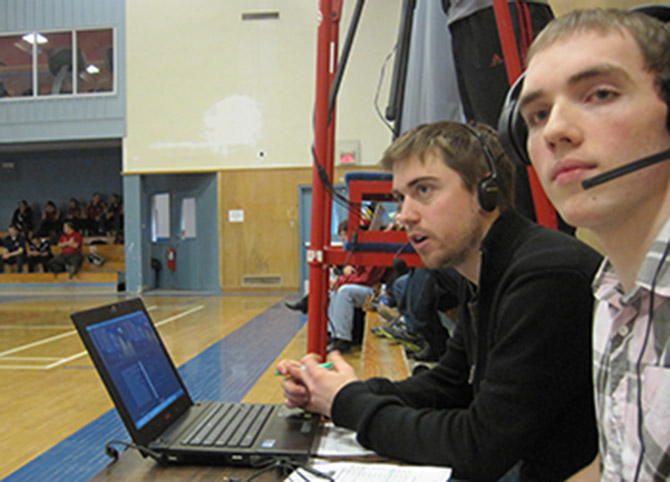 A group of girls wearing red and white jerseys huddle together near the half-line of the King's College gymnasium. One of the players pops her head out of the circle and glances to the middle side of the court where three students divide the visiting fans from the home fans. The trio prepare for their broadcast of the woman's basketball game between the King's Blue Devils and the Saint John Seawolves. The girl, not accustomed to the broadcast, turns back to the huddle and snickers, "What is this, the WNBA?"
This will be the 32nd game the trio has broadcasted live over the Internet with full commentary, so they're used to the quips and jabs from visiting teams. In the nine team league they're one of only two schools that provide play-by-play. They only began broadcasting last semester through what they collectively describe as pure luck.
Justin Hartling, who performs the play-by-play for the men's and woman's basketball teams, got the ball rolling when he inquired about broadcast opportunities.
"It turns out that not even 24 hours before they had signed a deal with sportscanada.tv to broadcast," said Hartling. "It was a right place at the right time thing."
Hartling soon recruited two of his buddies, Stephan Campbell, who works play-by-play for the men's and women's volleyball teams and Ian Froese, who usually handles camera operation.
Hartling and Campbell have emerged as the broadcast's usual duo. When not working play-by-play for their respective sport, they join in as the colour commentator, adding stats and stories to game action.
They say the program has come a long way. They've gotten to know the players in the league better, discovered some interesting stats and even created their "Boss of the Game" title, which is crowned to the most outstanding player of each game. Even with their on-air chemistry developing, they still enjoy topping the other guy's puns.    
King's guard Bhreagh Moore shoots from the free throw line and drains a basket. Her nickname has been deemed "BMO" by teammates and it has caught on with the broadcast crew.
"You know Justin," says Campbell after watching Moore's foul shot. "They call her BMO because she is money."
This is Moore's first game back on the courts since she had to sit out three games with mono. She's one of the players on the Blue Devils who has full appreciation for the broadcast King's provides. Although she was bed-ridden, she didn't miss a minute of the Blue Devil's action.
"They're doing a great job," said Moore. "It's a lot easier to watch when they're telling you what's happening."
Moore also says her family enjoys the broadcasts.
"My family always watches when they can't make the game," says Moore. "They live in Cape Breton, so it's great for them."
The basketball season will soon end for the ACAA, while the volleyball and soccer seasons have already come to a close. The King's broadcast crew has only four remaining games on the agenda. But Hartling, whose career dream is to work for TSN, plans to continue broadcasting sports. He and Campbell have already practised broadcasting NFL games over the Internet. Hartling also plans to push hard for a spot with the crew covering AUS basketball championships. The men's championships will be held in Halifax in early March.    
"Every morning I would wake up and watch SportsCentre and then one morning I said damn, that would be awesome to do," said Hartling. "Broadcasting has become the highlight of my week. It's amazing being able to do this."
"I would say it's something that I would love to do," said Campbell.  "This experience has really opened some doors for me, and hopefully down the road I can pursue it."