Students gather for one last push for divestment
Before a crucial board of governors meeting, students gathered in the Dal quad to demand the university end its investment in fossil fuels
November 25, 2014, 2:38 PM ADT
Last updated November 25, 2014, 5:44 PM ADT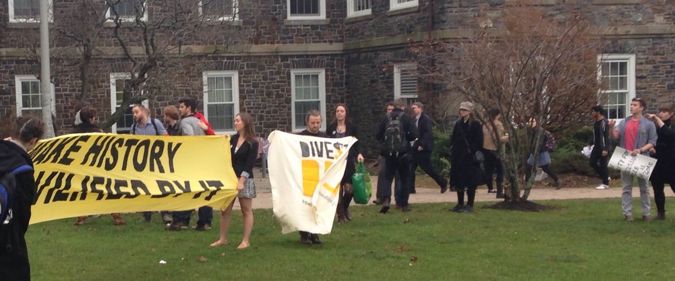 A group of 20 or more students gathered in the quad at Dalhousie University for one last push for divestment. Students donned orange arm-bands and chanted, "Divest, divest. Put fossil fuels to rest."
A vote by the board of governors', which takes place at 3:00 p.m., could be a landmark decision for Dal if it opts to divest itself from fossil fuel investments.
The students had one thing to say to board of governors: "Make history or be vilified by it," referring to the vote. If the board decides in favor of divestment, Dal would be making history by being the first university in Canada to do so.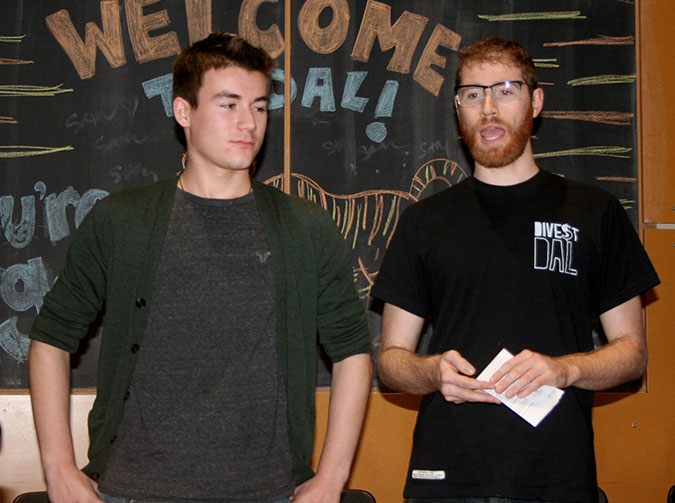 For 18 months the Divest Dal society has been campaigning for divestment. It has made presentations to the board of governors' investment committee and students across campus to argue that divestment would benefit the university.
So far it has rallied the support of more than 2,000 students, 120 faculty members and prominent environmental leaders such as Elizabeth May, David Suzuki and Maude Barlow.
"We've given the BoG absolutely everything they need to divest — student support, faculty support, and an incredible amount of research," said Bethany Hindmarsh, a current Dal student. "We expect nothing less than for our governing bodies to stand with the brightest minds of this institution and to do what is necessary to mitigate the effects of climate change."
Divestment isn't a new topic at Dal. Dal divested from South African companies in 1987 to combat racial apartheid. The society compares Dal's decision then to the present day, claiming that climate change is as much of an important issue as apartheid.
In the meeting today the board of governors will present a report that was created by the investment committee in the light of which the board as a whole will vote.