Students, politicians call for action on Ivany report
Now or never: Demonstration calling for the government to take action on the issue of student migration from N.S.
February 12, 2015, 2:42 PM ADT
Last updated February 12, 2015, 3:08 PM ADT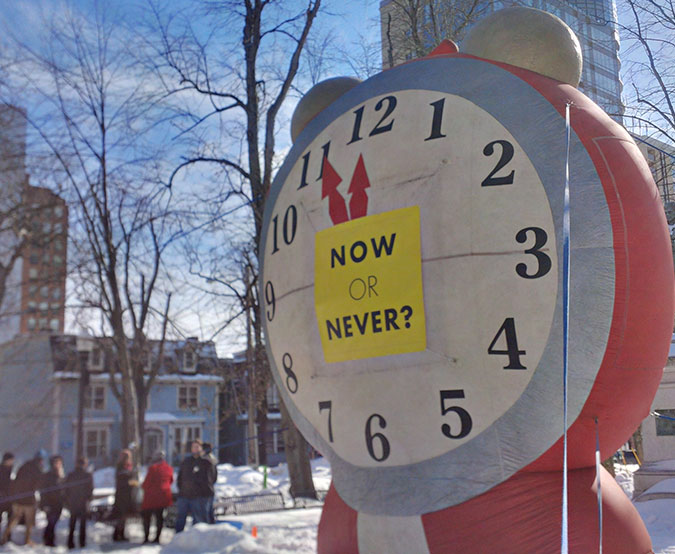 It's been a year since Ray Ivany's One Nova Scotia Commission Report painted a bleak future for Nova Scotia, and students and politicians are saying not enough has been done.
A demonstration today in Halifax's Victoria Park, co-ordinated by Students NS, an alliance of university student unions, has raised a giant inflatable clock ticking down to midnight with the slogan, "Now or Never" on the face, calling attention to the lack of action. Their campaign has a foreboding title of Farewell to Nova Scotia, implying the province could one day disappear if migration and employment trends continue.
The report, more commonly known as the Ivany Report, was commissioned by the Darrell Dexter government in 2012 to investigate the economic future of Nova Scotia.
The report deemed low youth retention in the province as a crisis, saying that the negative migration trend is not only a current issue, but will lead to dire economic and employment consequences as the current workforce ages and retires.
Since the report was released last February, the government ended the Graduate Retention Rebate scheme, eliminating $35 million of incentives designed to keep young people working in the province.
Jonathan Williams, executive director of Students NS, said that the government isn't taking the issue seriously.
"Government action has to be on the same scale as the problem. It's the future of the province. What you spend your money on shows what you value and what the Nova Scotia government is saying is that they don't value young people," Williams said.
Liam Murphy, president-elect of Acadia Student Union and current vice-president academic for the organization, said the focus has to be on retention through collaboration with the private sector.
"We'd like the government to focus on experiential learning, like co-op placements to get students prepared," Murphy said. "There's this mythical 'two-year experience minimum' requirement for entry-level jobs. But students can't get the jobs they need to get the experience in order to get those jobs."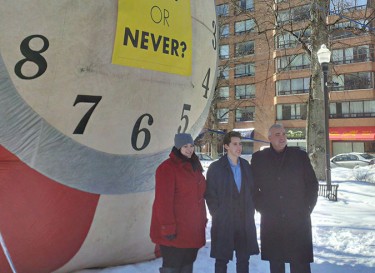 NDP MLA David Wilson was at the event showing his party's support for the cause, saying that the situation is a concerning one as a politician but also as a father of two.
"Action has to be now. Governments tend to wait until crisis, but out-migration is a crisis now. The demographic shift that will take place … there will be a smaller labour pool to draw from … it's an issue that will affect all services and industries," Wilson said.
Andrew Johnson, of the local chapter of Society of Young Conservatives of Canada,  indicated that negative population trends, in a province where 43 per cent of inhabitants live in rural areas, is a worrying trend, and offered some possible solutions.
"Economic policies that are fiscally responsible, lower tax rates, creation of opportunities and attracting people to metro and rural areas are key. Towns are disappearing and young people are going out west for jobs. We need to bring them home."
A spokesperson for the Liberal Party was not immediately available for comment.