Students weigh in on proposed Dal fitness facility
Dalhousie students shared their ideas for the new Dalhousie fitness facility.
February 14, 2013, 2:39 PM AST
Last updated February 15, 2013, 9:40 AM AST
This story has been updated since initially published.
Student suggestions for a new Dalhousie fitness facility include an improved running track, lounges and a dance studio.
Those ideas were gathered during three consultation sessions held to gather student input. The final session is today (Thursday, 5 p.m. at the University Club).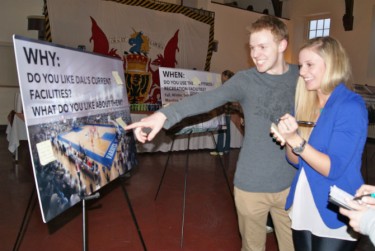 Oliver Beck, a consultant who led the discussion, said the new Dal facilities can be anything.
"This is the very beginning, there is no box around the project, it can be anything right now," said Beck, who works for Educational Consulting Services Corp.
Beck said the new facility could include the bones of Dalplex.
"The Dalplex is a rat hole. There is the possibility of adding on or carving out the field house and using the space."
As far as cost is concerned Beck said, "the budget is a bit of a moving target." The cost was estimated last year to be in the range of $46 to $70 million. Both Dal and King's have committed their students to pay a $180 student fee, once the facility opens, to finance its construction and operation.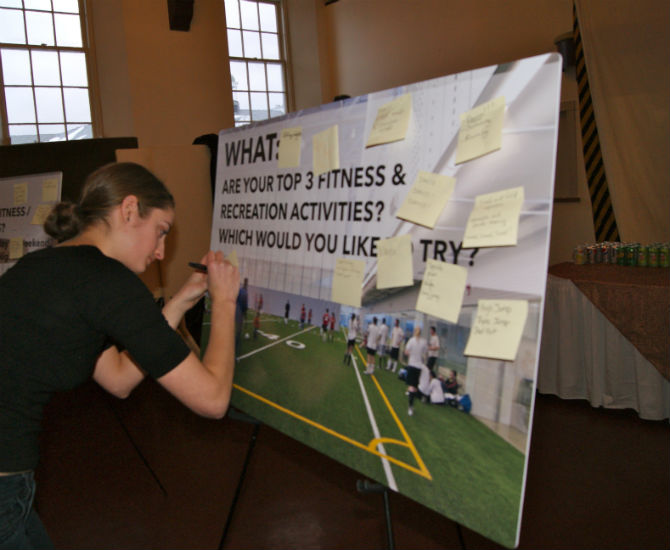 Student ideas for the new facility have included a regulation size running track, a green space, varsity athlete lounges and new equipment. DalDance representatives voiced their need for a dance studio.
Allie Nugent, president of DalDance, said her committee has been saving money for its own studio. They are now considering sponsoring a studio in the new facility.
Anne Fenety, acting director of Dal's school of physiotherapy, suggested a collaborative health care clinic be considered for the new facility.
"It's a win, win… Athletes get treated, health profession students get to practise," she said. "Changes are happening on campus. This is the time for us to dream."
Beck said the project is moving along quickly and in the next month and a half there will be initial drawings done. Structural engineers are being met with today.
Update: Feb. 15: Clarified wording to state that Dal and King's have committed their students to pay the fee.