Study: opportunity for young Canadians lies out west
An economic boom in Alberta is attracting the best and the brightest young professionals in Canada, according to a study.
November 19, 2014, 11:04 PM ADT
Last updated November 25, 2014, 6:51 AM ADT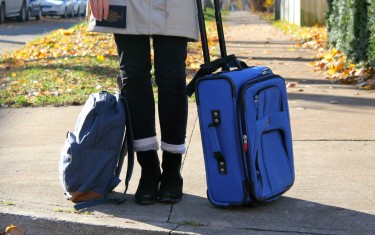 If you want a better shot at earning a middle-class income or higher, the West is the place to go.
Research from the Fraser Institute suggests opportunity-rich economies in Saskatchewan and Alberta are drawing young career-hungry adults away from Atlantic and Central Canada and into the realm of the West.
The study, which was released on Tuesday, compares 10 provinces and aims to determine the levels of opportunity for young adults in each area.
The comparisons are based on income levels, private sector investment, employment rates and population patterns.The study calculates the prospects for at least a middle-class income for young adults, shedding light on where it makes the most sense to start a career in Canada – geographically that is.
According to the study, population migration patterns show most provinces lost young adults aged 24-35 between the years 2003 and 2014.
Central Canada took the biggest hit, with Ontario losing 27,451 people to migration and Quebec losing 24,451 people.
Alberta, on the other hand, received 60,855 young adults. This was the largest migration total seen in the country over the 10-year period.
Surprising results
Calgary-based economist Mark Milke, the author of study, says some of the data surprised him.
"Ontario and Quebec do quite poorly in the data, and now replicate or imitate Atlantic Canada (in their economies)," says Milke. "That was surprising."
Milke says it's common knowledge Ontario and Quebec have had trouble generating jobs and income. He was especially startled to see the data show how bad the economic state is in Ontario.
Milke says Ontario's downturn has a lot to do with the absence of large private-sector investment.
"Alberta said yes to oil and gas," says Milke. "Some provinces say no, some provinces say yes."
Alberta is the top province for private-sector investment. The province saw approximately $60.5 billion in 2012, about $17 billion more in investments than Ontario that year.
"In Nova Scotia it seems like one opportunity is drilling for natural gas," says Milke. "That would create wealth, some jobs, some tax revenue, and help the province."
Milke understands why so many young people are flocking to western Canada for jobs.
"Most of us, unless we're Paris Hilton and have some sort of trust fund, needs jobs," he says.
Derek Doyle is graduating this year from Dalhousie. He is currently completing the commerce program with hopes of becoming a chartered accountant in the future.
The senior student plans to move to Ontario, where he has landed his first job in the biggest business hub in the country.
"Toronto is the commerce capital of Canada," says Doyle. "That gives me a really diverse selection of industry to work in."
Although Doyle is moving to Toronto, he plans to move to Calgary further down the road. The growth opportunity in the oil and gas industries is a draw for Doyle, among other things persuading the 21-year-old to migrate to the West.
"The culture there (Calgary) is very different from Toronto and the rest of Canada," says Doyle. "I think that has a lot to do with what attracts people to go out there."
British Columbia and Saskatchewan also welcomed a smaller number of people from that age group, but it was nothing close to the spike in migration Alberta experienced.
Julia Mackey is completing her fourth year in accounting at Dalhousie University. She has already landed a job at PwC accounting in Calgary.
Mackey says the main thing that drew her to Alberta was the opportunity for growth. The main office of PwC is in Calgary and they have several other offices across Canada. Mackey says the low taxes were also appealing to her when she was considering all of her options.
Originally from London, Mackey says she wasn't interested in heading back to Ontario to work.
"You get to work on more stuff, especially as a young employee, within accounting. Once you get certified you can go into industry," says Mackey. "Because the companies are bigger, they have bigger clients (and) it leads to more opportunities out there."
Mackey said she considered staying in Halifax, but she knew it wouldn't be long-term so she made the move to somewhere she knew she'd be for a while- the West.
"In Nova Scotia the growth is so limited," says Mackey.
Not all hope is lost for the East. The study found Newfoundland and Labrador have improved in a number of economic categories. The categories include private sector investment and weekly wage ranges, as well are per-capita income.