Task force issues recommendations to tackle King's deficit
Sessionals to stay, but possible salary freeze to impact faculty
February 3, 2015, 6:58 PM ADT
Last updated February 4, 2015, 10:20 AM ADT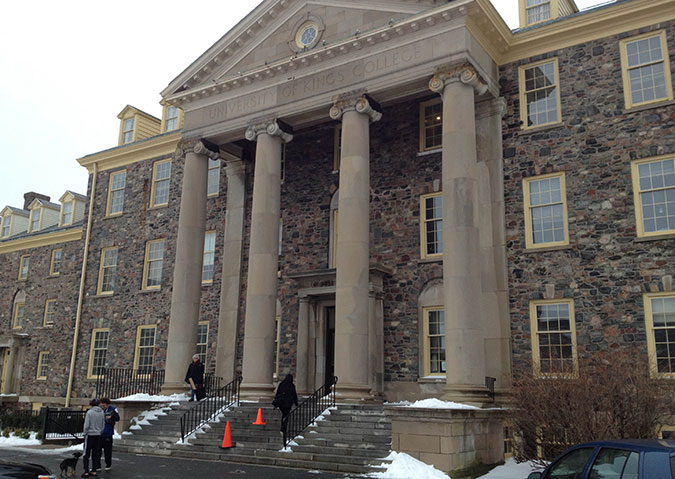 If the University of King's College Task Force for the Future's recommendations are implemented, the school will not see an elimination of sessional instructors, all faculty and staff making over $60,000 a year will be subject to a one-year salary freeze and students will see at least a $100 reduction in their yearly fees.
These measures are part of the task force's latest interim report, released today, offering recommendations on how King's should deal with its $1.26-million deficit in a way that is sustainable and minimizes negative impact on students and staff.
In order to tackle the deficit, which is the result of declining enrolment and government support, King's must find savings of about $1.4 million in 2015/16. Failing to do so means increasing the deficit by an additional $500,000 in each fiscal year.
The recommendations were presented in a 20-page document, and summarized in a list of 10 main recommendations. Suggestions such as an energy retrofit of the school, an overall 5 per cent budget cut and a salary freeze would result in savings of $1.35 million, the report says.
The task force, which was borne out of recommendations from an ad hoc faculty task force that was formed this fall. It includes 13 members, representing faculty, staff, alumni and students.
Kim Kierans, task force chairperson and King's vice-president, said the team has been meeting since November to try to come up with recommendations that will have the least impact on the least amount of people.
"Our financial situation is that our expenses are going up and our revenue is (going down). There's a problem, and it's a structural deficit. It's not something a one-year fix can stop," she said.
"Our financial situation impacts everybody at King's: students, faculty, staff, alumni, administration, all of us."
Faculty will see the biggest impact if these recommendations are adopted. A salary freeze would affect anyone employed by King's making more than $60,000 a year.
It's recommended the freeze not take effect until July 1, 2015, and be in force until June 30, 2016.
"This will impact faculty more than staff (as) most of our staff earn less than $60,000, which to me, from an equitable point of view is really important," Kierans said.
Back in November, as Kierans explains it, when "everything was on the table," the suggestion of eliminating sessional instructors created some backlash, and was the subject of a letter-writing campaign from students and staff.
"I wrote 143 letters to students saying no decision had been made," Kierans said.
The recommendation for King's to renew contracts for sessional humanities instructors is one that will impact not only the instructors themselves, but also other faculty members.
"Now professors will be able to get sabbatical leaves they will be able to go off and do their research next year, if we didn't have sessionals next year we would have to defer their sabbaticals," Kierans said.
Last week, the task force held an open town hall meeting at King's to field suggestions from the King's community. One of the major concerns it heard from students was the cost of attending the school — students suggested that lowering fees would improve enrollment and increase donations from alumni.
The task force listened, to the best of its ability. Though tuition fees are set by Dalhousie because of King's relationship with the school, ancillary fees are not. The task force has recommended the school drop its $100 technology fee for two years, as well as examine other ancillary fees and make sure they are completely necessary.
"Students are very concerned and we're very concerned about the cost of (attending King's). We don't want to outprice ourselves out of the market, so to speak," said Kierans.
As for that $2.228 million King's found in a bank account collecting interest since the 1980s, the document also makes recommendations on how the school can best use that money to help fuel long-term savings. One of the major recommendations is for early retirements/buyouts.
"(That money) is not to help fill the gap, the idea is it's for the long term," Kierans said. "If people want to retire early we can provide incentives for them to go early, (it's for) the conference services and special projects, an innovation fund. It's money that can create new academic initiatives."
Though the recommendations have been published, they must pass through many hands before any decisions are finalized.
Kierans said first, these measures must be discussed at length by the school's faculty and staff in a meeting that will take place next Tuesday. Then they must be approved by the King's finance committee, and brought to a vote before the King's board of governors. Kierans said that decision is expected by the end of the month.
Fine-tuning of the recommendations, if passed, will go then through the Budget Advisory Committee, and passed along to the president's office.
And even then, the work of the task force is far from over.
"This interim report (is) to address 2015/16, then our job is not finished — we have to look at the longer, structural programs," Kierans said.