Teen expo draws thousands for career advice
The 4th Annual Teens Now Talk expo had teens making connections to develop their careers and personal lives.
November 19, 2014, 3:34 PM ADT
Last updated November 21, 2014, 9:49 AM ADT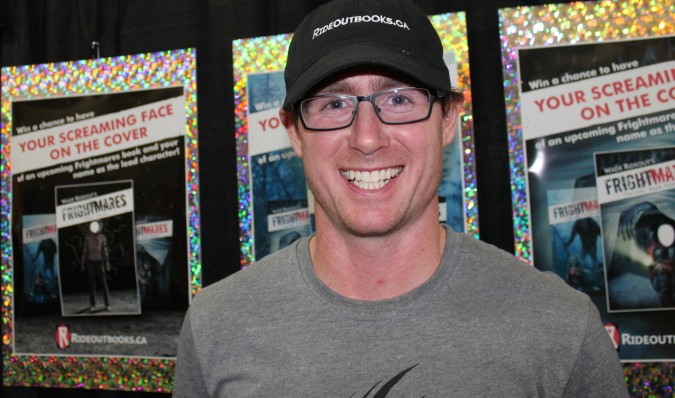 Lobster fisherman by day, author by night
When he isn't on a lobster boat in the middle of the Atlantic Ocean, Wade Rideout writes fantasy fiction novels for young adults.
Rideout was one of many people manning booths at a two-day exposition which wraps up today at the Halifax Forum. More than 3,500 students walked the halls of the 4th annual Teens Now Talk Expo, the only one of its kind in Eastern Canada.
His books on display included the Frightmares series, in which the main character is a 12-year-old boy.
Rideout says his books aren't just for boys, but they are his target demographic. He says he feels it's important to write for boys this age because there's not a lot of reading material catered to young boys these days.
He now contracts out everything except the actual publishing and the writing of the books.
"I work with illustrators and designers from the U.S. to Canada, all over," says Rideout.
Rideout says that writing has always been a passion for him, but it hasn't always been so lucrative, so his day job will have to continue for now.
"Lobster fishing pays the bills," says Rideout.
The author was inspired by his days at sea and he can't remember a time when lobster fishing wasn't a part of his life.
"I literally was fishing since I was seven, helping my dad out," says Rideout, "That's where I get a lot of inspiration and come up with alot of different ideas for stories."
Even though writing fantasy/science fiction for young adults (especially boys) can be hard because of the niche market, Rideout wouldn't have it any other way, "I do this for a passion, and I love it."
He knows he could write books that would appeal to larger audiences, but he isn't interested.
"I could write vampire novels I guess, but I don't want to," says Rideout.
Rideout says the Teens 2 Talk Expo has been great for his books, "This is my first year here, I'm getting lots of good reception, meeting lots of cool kids."
The two-day exposition wraps up today at the Halifax Forum, and the founder of Teens Now Talk Magazine, Jessica Bowden, could not be more pleased with the event.
More than 40 schools from Cape Breton, Eskasoni, Lunenburg, Oxford, Truro and the Halifax Regional Municipality attended the expo.
"The expo is the living document of our magazine," says Bowden.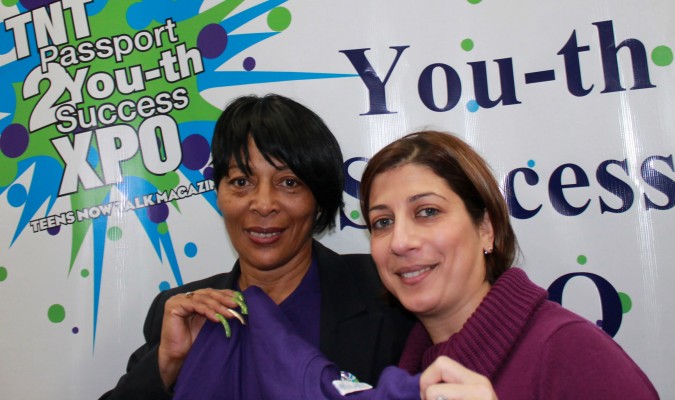 The expo was designed to have young students meet face to face with individuals, organizations and businesses to help their personal and career development.
The magazine targeted at teenagers also features pieces written by teens. The publication, she explains, is the only one of its kind in Eastern Canada.
Bowden says interest in the demographic is growing fast. Attendance is expected to be higher than the previous year by a thousand young Nova Scotians. Last year's event had a thousand more attendees than the one before that.
The expo featured about 50 booths from companies such as Lawton Drugs, as well as organizations such as the Halifax SexualHealth Centre and academic institutions such as Dalhousie University and Saint Mary's University.
Not all the booths had big names behind them however, some of the exhibitors were authors, business owners, or just individuals trying to reach out to the younger demographic.
Turning your skills into cash
At the Students in Business booth, Beth Carmichael held up a jar in which students wrote ideas for potential businesses they might own one day. The student write their idea on a piece of paper, and toss it into the collection of the dozens of other folded papers in the container.
One ballot read "teach piano." Another read "help old people."
The Students in Business Program helps students start their own business by offering a loan of up to $5,000 to get their business of the ground. It is one of 41 not-for-profit organizations working with government and the private sector in the Atlantic provinces.
The program was developed by the Nova Scotia Association of Community Business Development Corporations with funding from the Atlantic Canada Opportunities Agency, Nova Scotia Economic and Rural Development and Tourism, and Enterprise Cape Breton Corporation.
Although the program has been operating for 10 years, she says feedback suggests "people aren't as hungry for money as perhaps other generations were."
Those under 15 year of age cannot apply for the loan. Carmichael says students old enough to hold jobs frequently don't apply, while the younger ones may still need to wait a few years to be eligible.
But it is not just age that is a factor in deterring the youth from starting their own business with this loan; it's their parents too. Those younger than 18 need a parent as a co-signer and often there is conflict in there, Carmichael explains.
"Some parents say 'they can't keep their bedroom clean, so I would not want them to have $5,000,'" says Carmichael.
The stress of having to pay back $5,000 might be too high for some individuals and that is why the loan can be awarded to groups instead of just one individual student.
Carmichael says classrooms have gotten together and applied as a micro-company for the program. She says that dividing the responsibility of having to pay the loan between many helps the students become more creative with their ideas.
Carmichael says social enterprises are the next big thing.
The student who receives the grant has a mentor who is helping them along the way. This, says Carmichael, is what makes the Students in Business program a success.
As part of the application, a student must find a mentor who will help them develop their idea and will guide them through their business plan. According to their website, Students in Business has a 96 per cent success rate.
Naomi Puddicombe sits next to Carmichael, she has a great idea for a business that would help out students but is too young to apply. She is eager to get her own business started as soon as she can.
The program is open to students ages 15 to 35, Puddicombe is 12.
This year, Students in Business will accept applications of students up to 37 years of age. Carmichael says she hopes they will also make a change to allow younger students to apply so young students like Puddicombe can get a head start on their business empires.
The program has no deadline for applications and a business can apply for the loan multiple times.
"We've even had cases where an older sibling has passed the business down a younger sibling," says Carmichael.
The content of other booths focused more on the safety and protection of youth, such as titan's Fitness Academy, which focuses on mixed martial arts and CyberScan, which focuses on keeping youth safe from cyber-bullying and online sex crimes.
Students attending the event were subject to a series of seminars by the exhibitors on stage as well as a line up of artists including Melanie Durrant, Keonte Beals, Mitchell Bailey, GQNUMBERONE, Soul Howe, Dizzy and Shevy Price.
Attendees also enjoyed a series of contests, draws and food while networking with the people behind the careers they hope to be part of some day.
The Teens Talk Now Expo gives students from across Nova Scotia the opportunity to focus on what they can do to better themselves. It allows them to have a fun time while exploring the aisles of representatives at the Expo who are there to start a conversation with them about university, the trades, sexual health, cyber bullying, or even just a good book.