The A-Word: Women still face barriers accessing abortion
Wait times, billing remain factors in obtaining timely abortion procedure
November 17, 2014, 11:27 AM AST
Last updated November 18, 2014, 1:19 PM AST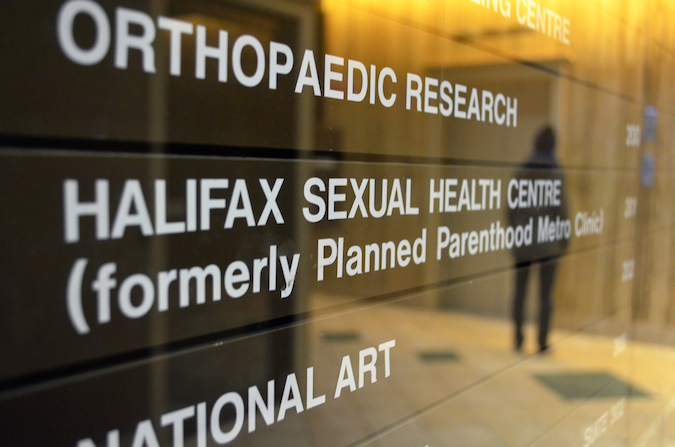 As Kaleigh Trace sat with her legs up in stirrups, she clutched the hand of the nurse sitting next to her. She held it very, very hard.
Kaleigh Trace was one of 2,157 people who had an abortion in a Nova Scotia hospital in 2011. She was given some Ativan and laid on a table for a procedure, which required more than a month of planning and waiting, that took less than 10 minutes.
In her blog Trace writes that her experience seems "very far away and resolved" today. She was put through a multitude of hurdles to access the common and legal procedure. Despite the fact she was a sex educator for three years and a person with a disability who had 16 years of experience with the medical system, she states, getting an abortion was one of the hardest things she's ever had to do.
It wasn't difficult "because I didn't want to do it," she states. "But because it felt like the rest of the world didn't want me to do it."
Members of the reproductive rights community are concerned that while abortion might be legal, it isn't enshrined as a human right in the Canadian Charter of Rights and Freedoms. Women have a hard time accessing it in the Maritimes because of the scarcity of services and the societal stigma surrounding the issue. Since the loss of the only private abortion clinic in the Maritimes, the Morgentaler clinic in Fredericton, N.B., pro-life organizations have been filling the space it left behind.
A Nova Scotia physician offered to perform abortions in P.E.I. last year because the procedure is currently not available on the island. P.E.I. Health Minister Doug Currie rejected the proposal on Nov. 8 saying it doesn't conform to the province's policy regarding funding out-of-province abortions.
Limits to access
Jula Hughes, a law professor at the University of New Brunswick who speaks on the issue of reproductive rights, attributes the current situation to successive provincial governments failing to take reproductive health seriously.
"About 1,000 women in the Maritimes are forced to carry a pregnancy to term because of lack of access to reproductive services," says Hughes.
Anyone hoping to make an appointment to terminate an unwanted pregnancy in Nova Scotia is in for a long wait. They'll have to make two separate appointments: the first with a medical professional to confirm the pregnancy and make a referral to a hospital, the second for a physical examination, which includes a blood test and an ultrasound.
Terminating a pregnancy can only be performed after the person reaches the eighth week of their pregnancy. In Trace's experience, being forced to remain pregnant for two months was the hardest part of the process.
"Being forced to wait is hard in and of itself because it is a constant reminder that as a women, I don't have full control over my body but instead am a subject of the state," she says in an interview. "It really feels like one's autonomy is being taken from them."
Abortion services in the province are accessible, but there are limits — such as financial and geographical restraints — posed against that access. However, the NDP's former minister of Health and Wellness, Maureen MacDonald, says that reproductive access in N.S. is not an issue.
"During my three years as [minister] I had thousands of letters and calls about many issues but none regarding serious barriers to reproductive care services, like abortion. If that were the case, I would have acted decisively," she stated.
As someone who went through the process, Trace has a different view on the matter. Since her procedure in 2011, she believes that the developments of access to reproductive services have been "terrible, abhorrent and archaic."
"I am embarrassed for us when I go to other parts of Canada and talk about abortion in the Maritimes," she relates in the interview.
The Liberal and Progressive Conservative parties did not respond to requests for comment.
Reciprocal billing excludes abortion
Reciprocal billing is a mechanism that allows Canadians travelling to other provinces to access medical services paid for by their province of residence. Sometimes patients will have to pay upfront for their procedures but will later be reimbursed.
The Abortion Rights Coalition of Canada argues that abortion is time-sensitive and  should be subject to reciprocal billing. The cost to patients to travel to their home province can exceed the cost of paying for the procedure out-of-pocket. It's especially a hardship for students who live on a tight budget.
If a person doesn't have health care insurance in Canada or if if their province isn't covered through reciprocal billing, they will have to pay out of pocket. A representative from the Queen Elizabeth II Health Science Centre's cash office quoted the price of the procedure at $1,192, and the preliminary consultation at $584. This is a far cry from the $700 price tag of an abortion at the now-closed Morgentaler clinic in New Brunswick.
Concerns over DIY abortions
Pro-life activists have been accused of creating a culture of shame around abortion so that women will stop terminating their pregnancies.
"History proves that people who cannot afford an abortion, or cannot access an abortion for other reasons, find other, usually more dangerous, ways to get the abortion," says Jaden Fitzherbert, a member of Reproductive Justice New Brunswick, an abortion rights advocacy group.
Abortion access is also an issue of financial means. These restrictions are seriously affecting the poor who will feel the lack of nearby clinics and the obstacles of referrals and travel.
Patients may have to arrange for time off work, travel long distances and arrange childcare or elder care. When all of these barriers build up, it can lead to women attempting to end the pregnancy on their own or to seek help west of the border in Maine.
One way to get around hospitals and geographic barriers is RU-486, commonly called the abortion pill. Mifepristone is not legal Canada-wide, but that hasn't stopped some from ordering it online. While a medical abortion could address some of the access issues, it shouldn't be done without medical oversight.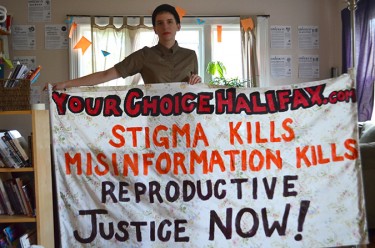 The executive director of Halifax Sexual Health Centre, John Britton, says people who face an unwanted pregnancy but are unable to overcome the legal obstacles may (illegally) turn to mifepristone. He explains that lengthy wait times for an abortion influence their decision to order the pill.
If someone finds out they're pregnant at six weeks, they may be waiting nine weeks before they can get to a hospital. Every province has a gestational limit, Britton explains, so "by the time you get your appointment, it's at the cut-off date. It's really disgraceful."
Jude Ashburn, the outreach co-ordinator for South House, Halifax's gender justice centre, says "it really is about access. And finding new ways to beat the the barrier to that. And that is a profound act of violence."
Stigma continues to be a factor
Stigma continues to be a problem when talking about abortion. Despite the fact Trace was confident in her decision to have an abortion, it was still a "surreal, confusing, and alienating experience."
"The lack of information and resources was mind-boggling," Trace writes. "The silence and sense of shame I felt was isolating."
Despite being a legal medical procedure, barriers remain. Britton says that "The biggest shocker for me is we're still treating this as if it's illegal, and its been legal since 1969."
If you wish to know more about Kaleigh Trace's story, you can read more about her experience on her blog.