The Everything to Do with Sex Show in Halifax not only about sex
Education, sexual awareness, sexual independence also big parts of weekend event
January 26, 2015, 10:42 AM AST
Last updated January 27, 2015, 1:56 PM AST
It was a weekend of sex, sex and more sex.  But that wasn't the only thing on the minds of those who attended the seventh annual Everything to Do with Sex Show in Halifax.
Education was also a big element at the exhibition, held at the Cunard Centre in downtown Halifax.
The sex show provided many of the cities' communities with the ability to get out and strut, while having the liberty to express their sexuality.
The seminar about anal sex, hosted by a representative from Venus Envy, provided people with information on how to make it pleasurable, while also ensuring the safety of both you and your partner.
The kink corner had many different demonstrations, one being the "Violet Wand",  an electrical sexual sensation toy, which uses the application of low current and high frequency electricity through the body.
Vendors and customers had a variety of opinions on how the show has evolved and developed over the seven years.
"It's a little bit of everything, sexual health, sexual awareness, toys and there are a lot of great seminars going on," said Jody Willerton, an attendee of the show.
Willerton said the sex show is somewhat repetitive, but despite that, she said, "it's good to keep it going because there are always new things coming out and new information as well."
Even though the tone and vibe were about sex and sexual freedom, there was another voice there as well — education.
"It gets better every year," said Kathelynn Coop, another show visitor. "You learn from the previous show, you grow and base it off of new trends and try to expand to meet more horizons."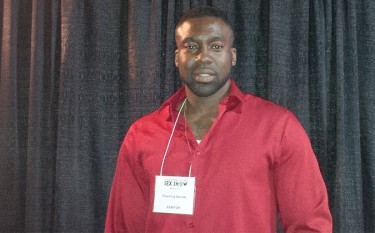 The sex show had many different aspects and levels to it.
There was a booth committed to health and wellness providing heat warming massage bags for those achy back muscles.
"It's not just the actual act and the things that go with it," Coop said. "It's the cultural that goes with it, it's the clothing that goes with it, it's the health aspect that goes with it."
Darnell Smith, owner of the "A-Team" booth who brought some male stripper action, said the Halifax show is tamer than those in places like Calgary and Toronto.
"I think the show has done pretty well, but I personally think that they could do a lot better."
Smith said in other cities, the male and female performers are able to show a little more and do a little more.
Education, sexual health and awareness played a major factor throughout the entire event.
Smith said that education "is a huge part of sexuality period. Having sexual education and the information is important, not just with knowing how to use the toys properly."
Smith said that he would encourage more people to come out.
Magic Finnga Wong, an artist at the sex show, said, "it's gotten bigger and we have more space and the same people come out and support (it) and it's good for the city."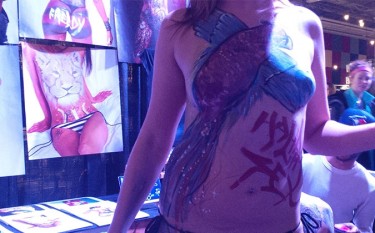 "It's good to have the different exhibits to keep the people's attention."
Asked whether he thought there was anything else the show's organizers could do to improve it, Wong said due to the city's bylaws, the show staff is limited in what they can do.

With that, Wong said he still comes because of the support of the people.
"I wouldn't say it's a lot better, but it's been better on our part," said Claire Bonsey of Unleashed Fitness and Dance.
Bonsey is a pole fitness instructor at Unleashed Fitness and Dance. She said that this year is the third year Unleashed has been at the show.
"We've learned a lot and come a really, really long way, but the whole show has been amazing."
Beth Wisemen-Lovett, owner of B.A.R.E. Restraints Corporation, agreed with the comments of most that education is key.
Wisemen-Lovett did say that some of the vendors weren't really focusing on education but focused most of their attention on getting the customers' money.
Vendor Shawn Nieforth of Blue Moon Adult Treasures said the show really isn't about sex or toys.
He said it's more about the education and the openness of all sexual groups.
"There's been quite a bit of change," he said.
Whatever you're into, you could find someone at the sex show to talk to you about it.
Burlesque performer Kay Licious, who also provides lessons and hosts parties, said that at the first sex show people might have been a little nervous about what to expect.
"'Oh, sex show that's not for me', when really it's for everybody."
Licious said now being in its seventh anniversary the show itself has evolved as well as the knowledge of it.
Licious said the level of education at the show is great.
"You can learn everything from burlesque to bondage and it's OK to ask those questions and it's OK to be a part of that."