The fight for accessibility on campus
Report and petition demand change on Nova Scotia campuses
January 15, 2015, 1:35 PM AST
Last updated January 15, 2015, 6:02 PM AST
Danielle Pellerine was born with spina bifida, hydrocephalus and a non-verbal learning disability. She is confined to a wheelchair and has difficulty learning. Thanks to assistive technology and her tutors at Nova Scotia Community College (NSCC), she's getting a post-secondary education.
But getting there hasn't been easy.
She studies Library Information Technology part-time, but takes all her courses online. She says her disability affected her choice of post-secondary education.
"University would have been too difficult because of my non-verbal learning disorder," Pellerine, 25, says. "At NSCC, there are tutors and assistive technology to help me meet my needs."
Wheelchair accessibility on university campuses played another role in her choice to attend NSCC. She has to attend a school close to her Mulgrave, NS home, and requires a driver any time she needs to go to campus.
Nova Scotia still has "a long way to go" in accommodating post-secondary students with disabilities, according to a report from Students Nova Scotia.
Jonathan Williams, executive director of Students Nova Scotia, says the report was prompted by a series of complaints about accessibility from students with both physical and intellectual disabilities.
Pellerine met with the college's disability resource facilitator before applying to the program to talk about the services available to students with disabilities.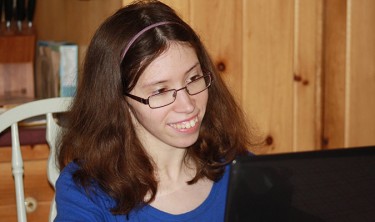 "I toured the campus I would be attending," she says. "Not many other students in wheelchairs have attended this campus… They had to make some repairs such as making the bathroom stalls bigger and lowering the sink."
Williams says there is potential for a project to map out accessibility on campuses in Nova Scotia. This project could include an app that would allow users to see barriers to accessibility and updates on blockages due to snowfall.
Pellerine goes to the NSCC Strait Area Campus only a few times a year for exams, tutoring and assessments. She wishes she could attend classes in person because she can understand better through verbal communication.
"If I took the course in a classroom, it would be more beneficial to me, as it would allow for better explanation."
Williams says the experience of being on campus is a significant part of post-secondary education. He says it's not just about having access to education, but the same quality of education that a person without a disability would have.
Pellerine says the NSCC staff is accommodating, but she wishes there were more services for students with disabilities offered at the school.
"Some courses have no tutors, which makes it difficult, especially with a non-verbal learning disorder that requires extra assistance."
Pellerine has experienced financial hardships due to her part-time status as a student.
"Currently, student loans are not accessible to me because I am taking a part-time course online."
She works as an on-call library assistant at the Mulgrave branch of the Eastern Counties regional library.
"I have limited funds because of my disability, which makes it harder to pay for some of these courses," she says.
The Student Nova Scotia report recommends a series of changes to post-secondary institutions in the province. These include improved accessibility to older buildings, increased funding to disability services and a name change to the term "Disability Services" to "avoid language that may alienate students."
Students Nova Scotia is petitioning the government to cover the cost of psycho-educational assessments for students with potential learning disabilities. These assessments are necessary in order for students to register for disability services in their post-secondary education.
Pellerine says she likes to tell others with disabilities that "they can do the same stuff as able-bodied people, sometimes there are more obstacles and struggles than others, but if you put your mind to it, you can achieve it."