The sublime, surreal and intensely personal Kejimkujik
NSCAD students explore relationship between art, the environment
November 1, 2013, 10:22 PM AST
Last updated November 5, 2013, 10:35 PM AST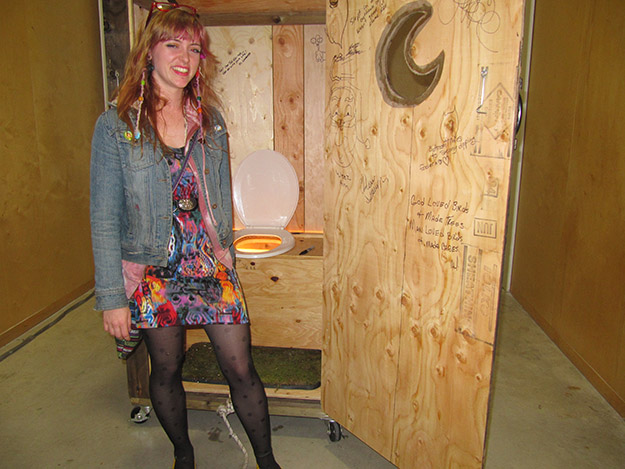 Anna Sprague stands in a white dress on a rock in the middle of a still lake in a looping digital video. Her reflection in the water is her perfect analogue, her skin the warmest tone against the grey landscape.
Suddenly she buckles and collapses into the water.
The video installation is part of #KEJI, a project of 12 artists who spent four days in August at Kejimkujik National Park in southwestern Nova Scotia to explore the "contemporary" camping experience.
At a reception held last month at the Port Loggia Gallery, tiny hot dogs and s'mores are offered in the spirit of the kitsch – and community – inherent in the project.
"It was like a classroom without walls or hierarchy," Sprague says of the experience, clad in a scout costume evocative of the silver screen celebration of young misfit campers in Wes Anderson's Moonrise Kingdom. An instructor for NSCAD University's foundation year program, her performance art, she says, explores the feminine relationship with the natural sublime as it alludes to – and twists – the Victorian trope of fainting.
The trip was about breaking down traditional boundaries and getting students out of their comfort zones while questioning the colonial history of parks in Canada, Sprague said.
In "Bird Watching," Emily Lawrence, 19, and Gillian Maradyn-Jowsey, 23, intently stare into each others eyes in a performance installation staged in a tent constructed from clear vinyl and tape – the same one they used to camp at Kejimkujik. They finish each other's sentences as they recall the "utopia" that was their Keji experience – replete with canoeing and hiking – but their performance in a Halifax gallery borders on the surreal.
So does the bear – a man dressed in a bear suit – who ambles through the gallery.
The previous year, a group of 11 – riffing off the infamous Group of Seven artists who immortalized the Canadian wilderness through their paintings – embarked on a similar sojourn in the park. But this is the first year that a partnership with Parks Canada was formalized.
Ashley Moffat, acting visitor experience manager at Parks Canada, said the park looks forward to future collaborations, especially after seeing the work at #KEJI. The artists took part in interpreter-guided hikes and canoe trips, and saw meteor showers and ancient Mi'kmaq petroglyphs at Kejimkujik – but retained a critical eye to the often-romanticized relationship with the park.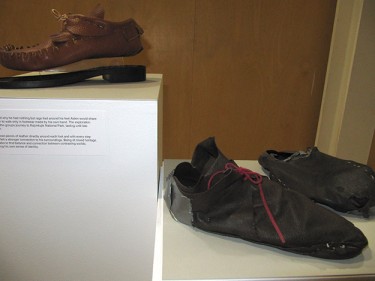 Sprague said her students read essays from two books – Creative Subversions, which interrogates the colonial history of national park culture and its fraught relationship to indigenous communities, as well as Queer Ecologies to enlighten their own practice.
For 19-year-old Aiden Gillis, the trip to Kejimkujik illuminated his personal struggle with the Canadian landscape.
"Overall, I felt disconnected from a lot of things," Gillis, of Mi'kmaq heritage, says of his attitude before he embarked on the trip. He decided he was only going to wear shoes he made himself from pig leather, in the spirit of his grandmother who made her own clothes.
While at Kejimkujik, Gillis felt a pile of leaves and the wet ground through the thin soles of his shoes and felt completely "awake and aware" of his place and connection to the land. He wore his handcrafted shoes for another month, strengthening them with thicker cotton, sinew and buffalo hide.
His connection with Kejimkujik has inspired him to create more tactile, personal art.
"It meant a lot to our interpreters," says Parks Canada's Moffat, "to see the positive impact of our tours on the artists.