Tinder has become the go-to social app for students
University and college students make up approximately 50 per cent of Tinder's users
November 6, 2014, 7:39 PM AST
Last updated November 25, 2014, 6:52 AM AST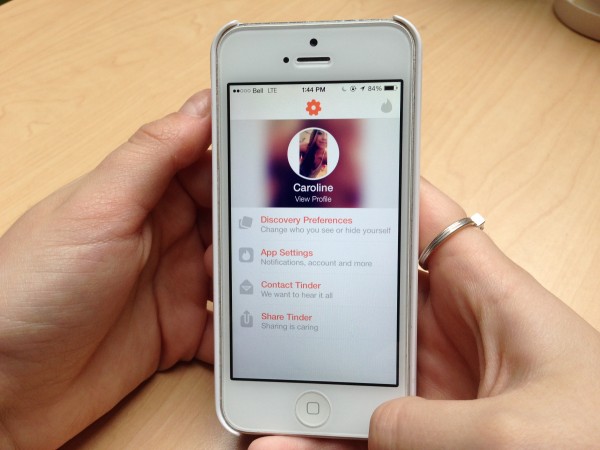 Chad Porteous loves Tinder. But not for the usual reason – he loves it because it's made him thousands of dollars.
His way with words on Tinder first grabbed the attention of the guys at College Humor in the spring of 2014, just before he moved to Halifax.
Porteous' goal was to have unusual conversations through the messaging portion of the dating application for his own entertainment. When an interaction was successfully funny, he posted screenshots of the best parts on his Twitter account to share with friends.That's when College Humor saw the posts and came to Porteous with a deal.
He was offered $1,000 for the first compilation of his Tinder pranks.
"At that point I was solely on Tinder for money," says Porteous, who moved to Halifax to study at the Centre for Arts and Technology in June 2014. "I don't think I've ever used the app for its original purpose…I've only had a handful of genuine conversations."
With more than 50 million active users worldwide, Tinder is one of the most popular dating applications in the world. It is an application for connecting with people in your geographic location. You swipe right to "match" and you swipe left to move to the next potential connection.
It's a quick and simple digital version of "hot or not." So it doesn't matter which way you use Tinder – genuinely or not – you'll be joining millions of others in the search for matches.
Tinder says around 50 per cent of its users have been "college-based" aged 18 to 24. Its co-creators Sean Rad and Justin Mateen said they strategically aimed for Tinder users to be in university because they knew it would be popular within the demographic.
Caroline Aquanno says she sees Tinder's presence on her university campus. "I see so many people from Dal, or in their descriptions it's people from Dal. Definitely popular." Aquanno uses Tinder for connecting with people in general, not just for hookups.
"I can move through people (in the app) and I'll see people that have pictures at Dal," she says. "I see people that I've noticed at parties before that I kind of know, but then we get matched on Tinder and become friends."
Aquanno says Tinder's popularity has grown in her group of friends over the past year "It is crazy, they are on it all the time. Especially the guys," she says.
Dal student Philip Harnanan spends a minimum of 20 minutes of his day on Tinder.
"I literally use Tinder all the time," says Harnanan, "I always check it before going to sleep, I guess it's just habit now."
As a student living off-campus Harnanan finds it difficult to interact with new people in his fourth year of school. "It's how I meet people. Almost everyone I know uses it to meet up with people."
Harnanan has met up with people five times through Tinder and he plans on continuing.
Harnanan says he is genuinely looking for connections which is not always the case with his friends who also have the app.
"It's not always serious, but they always have fun escapades through Tinder," he says.
Tinder users on every campus can get excited for Tinder Plus, a version of the basic application with updated features such as the "undo" button. This could save students the heartache of accidentally swiping left on a potential match by mistake. The only catch – the new Tinder Plus features will cost you .99 cents.
Even though he's made good money using the app, Porteous would never pay the small fee for the upgraded version.
"Pay for Tinder? That's a funny joke."