Universities focus on international recruitment
University recruiters have travelled to new countries this year in hopes of recruiting new students for their schools.
February 6, 2014, 10:52 AM ADT
Last updated February 6, 2014, 10:52 AM ADT
Haligonians could see an influx of international students next school year as a result of a stronger effort by metro universities to recruit internationally.
Halifax, which already attracts a large number of international students, could potentially see an increase in students from countries such as Sweden, Norway, China and Barbados.
EduNova, a partnership involving members of Nova Scotia's education sector, was granted provincial funding this year to help their mandate of encouraging international students to study in Nova Scotia schools.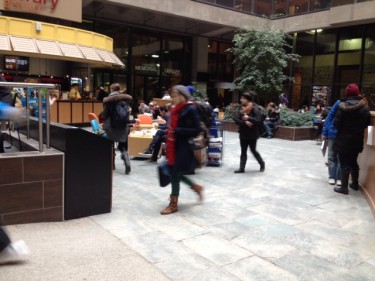 The funding, which is intended for both domestic and international recruitment, was about $750,000.
The grant it received this year allowed for representatives from Nova Scotia universities to extend their recruitment efforts to more schools worldwide. Destinations ranged from Amsterdam and the Caribbean, to India and California, providing new recruitment opportunities for most universities.
Elizabeth Yeo, acting president of EduNova and registrar at the University of King's College, says 10 universities benefitted from the grant.
Although international recruitment has always been a focus for Nova Scotia schools, Yeo says it is needed to compensate for declining high school graduates in the Atlantic region.
Brandon McNeice, who does recruitment for the University of King's College, says international students enrich campus life.
"It's better to have a more diverse population," he said. "It will benefit everything, including the students."
Jeff Hollett, associate vice-president of student experience at Mount Saint Vincent University in Halifax, says international students are an important part of the Mount experience.
"We can't educate students about the world unless the world is at the table, and as a consequence of that we work hard to bring students from around the world [to the school]."
The Mount is also taking advantage of the provincial grant given to EduNova, and has been traveling with the other representatives abroad. The Mount is already active internationally, working separately from other universities by developing agreements with institutions across the world, ranging from Kenya to South America to China and Vietnam. About 14 per cent of its student population is international students, with most coming from Bermuda, China, Saudi Arabia and Korea.
For smaller schools, such as King's, recruitment is generally limited to regions that are closer such as Bermuda, and New England. But this year, most schools went much broader with their recruitment. With visits to new countries, Nova Scotia could see a much more diverse student body next fall.
"It made for a crazy year," says McNeice, "but it's been pretty exciting."