University Ave. could be bike corridor
Committee looks at a sustainable plan of how to get people moving among institutions on the peninsula.
November 20, 2013, 5:25 PM AST
Last updated November 20, 2013, 11:57 PM AST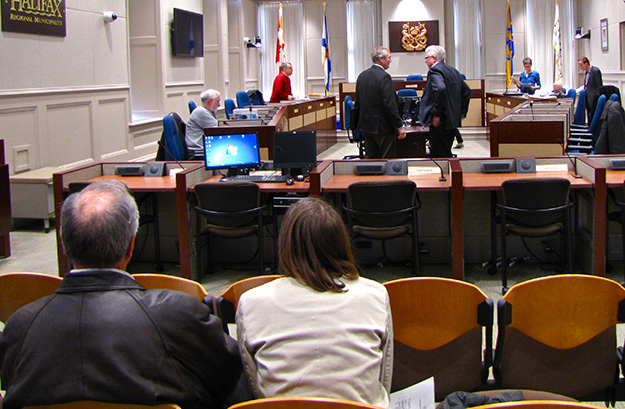 Imagine this the next time you're stuck in your car in traffic in Bedford, or on the bridge: a bicycle corridor where thousands of people move easily among the city's universities and hospitals.
That's just one of the options Halifax's Transportation Standing Committee considered at a meeting last week.
The committee is looking at the possibility of opening up University Avenue to become a segregated bicycle corridor and moving the usual mass of cars parked along the side street into a parkade – potentially beneath an elevated Wickwire Field.
This is part of the Institutional Transportation Planning Committee's cycling report, which aligns with Dalhousie's master plan.
"Maybe you can get parking off of University Avenue," said Rochelle Owen, of Dalhousie's Sustainability Department in her address to the HRM. "And that would free up University Avenue to be a dedicated cycle corridor for pedestrians from Robie Street down to Lower Water Street."
Owen has led this collaborative committee involving Dalhousie, Saint Mary's University, Capital Health and the IWK since 2010. Both the Halifax Regional Municipality and the Nova Scotia Department of Transportation and Infrastructure Renewal act as adviser. The goal of the committee: to ease the Halifax peninsula of the current transportation problems that plague its inhabitants.
"There's something like 45,000 movements between these institutions per week," said Councillor Waye Mason, who was in agreement with the presentation and proposed an additional service: bicycle rental stations.
"I think a bike corridor project is not just about commuting it's also about during the working day," he said. "If you're going from the university to the hospital site to another hospital site then you can take the bike and can leave the car in the garage."
It's a simple solution that would follow the committees' higher goals of increasing health and reducing greenhouse gas emissions – which happens to go along with saving money at the same time.
"People are increasingly living on the peninsula and certain pinch points on the peninsula make it challenging for people to get to our organizations," said Owen.
So solving the parking problem and having alternative road access is seen as a priority.
"We bring 65,000 people to the downtown core and the total would be about 18,000 on Halifax campuses and yet they have about 30 ride share participants," said Owen.
Which is why Dave McCusker, Halifax's planning manager, who sits on the committee, thinks vanpooling may be an answer to commuters' problems.
"The organizations will purchase vans and then employees can sign up to be a van driver – then if you live in Kingswood, one driver in Kingswood would then pick up five other people in Kingswood and take them to the (bus line) one or Dal or SMU or wherever they're going."
As Owen says, "there are options, someone has to bite the bullet at city hall and move on some of these larger transit issues."