University libraries test ebook sharing
New ebook collection freely loaned among libraries
January 18, 2013, 1:56 PM ADT
Last updated January 19, 2013, 4:57 PM ADT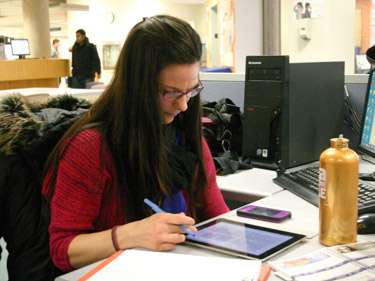 A group of Nova Scotia university libraries is testing a new approach to ebook lending that offers unprecedented levels of access to students and faculty.
Novanet – a consortium of 10 academic libraries founded in 1988 – has negotiated a new deal with publishers to allow the sharing of electronic books among libraries as freely as the sharing of print books.
In a pilot project that began in November, the member libraries deposited a total of $100,000 to access a shared collection of about 16,000 ebooks through vendor EBL. Patrons of any of the 10 libraries can instantly access these books through the Novanet system.
The agreement represents something of a breakthrough for academic libraries in North America, says Novanet manager Bill Slauenwhite.
"Publishers, especially academic publishers … they're not happy about losing any of their market share. So this was a hard slog and a hard negotiation."
Ebooks are praised for their convenience, but their use in libraries has actually been more restricted than print books due to licensing agreements. While a consortium such as Novanet could purchase a single print book and share it among all its libraries, it had to pay a "multiplier" of about four times the face value of the book to enjoy the same privileges with an electronic copy. Member libraries were rarely willing to pay the extra cost.
In the past, this has meant that library patrons could view, but not access, listings of ebooks owned by other universities – a frustrating experience for users, and one Slauenwhite says goes against Novanet's core value of shared access.
"This is a problem that was mentioned to us by many faculty and students – that they see all these items (online), how come they can't get access to them?"
Novanet and other consortia have been attempting for years to convince publishers to allow shared access without charging a price multiplier. The new agreement marks Novanet's first success at that goal.
According to EBL vice-president of sales and marketing David Swords, Novanet is the first of EBL's global clients to use this model.
The agreement with EBL currently applies to only 28 publishers and a limited selection of recently published titles. But Slauenwhite hopes the experiment will convince more publishers that the model is "a good thing."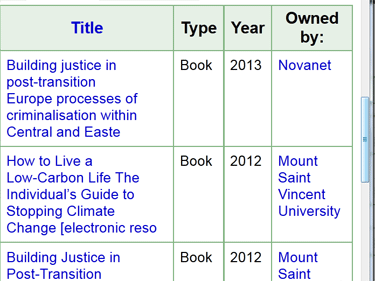 "Some of them … are waiting to see how this goes," he says. "My hope is that this becomes the standard for buying electronic works within the Novanet consortium."
Mixed in with the nearly three million records of the full Novanet database, the pilot project's 16,000 ebooks aren't likely to immediately affect the average user. Of a dozen students polled for this story at Dalhousie and Mount Saint Vincent universities, none had noticed the change.
That's not a problem, says collections librarian Ian Colford of Dalhousie, one of the partner universities. Ideally, the system should be seamless and invisible.
"So as long as we're not getting complaints from users, then I'd say it's successful on that front."
Some regular library patrons were pleased with the improved ebook access upon learning about it.
"The way the physical books work (through Novanet), it's perfect," said MSVU business student Bwalya Chitundu. "So if the electronic books are going to work the same way, then it's perfect. It's an awesome thing."
Novanet will evaluate the pilot project's success about one year from now.