Venus Envy brings sexual education to the university community
Store offers education 'from sex toys 101 to consent'
February 13, 2015, 9:09 AM ADT
Last updated February 13, 2015, 10:04 AM ADT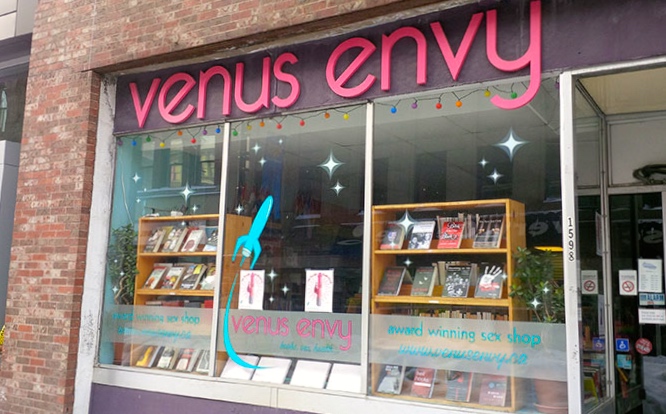 Halifax sex shop and book store Venus Envy isn't simply about selling sex toys, they also focus on education.
"We teach a variety of workshops and all kinds of topics from fellatio, sex toys 101 to consent," said Kaleigh Trace, staff member at Venus Envy.
Trace gives workshops to university groups. And whatever the workshop, even if they involve a pleasurable act or sex toys, they also involve a conversation about safety and consent because those issues are pivotal, Trace said.
It really depends on what the community group asks for, Trace said about the specific workshops they put on at universities.
Trace say Venus Envy does a lot for DalOUT, SMU Q and other LGBTQ groups on campus.
Orientation week in the university community can be intense and it's a whole new world for a lot of the students.
Besides an educational journey, students will also experience a personal journey of growth, which also involves sexual experiences.
The orientation week workshops they provide to universities across Nova Scotia are broad sex 101 because the first-year student body is so big.
About 1,000 students have taken the Venus Envy orientation week workshops and the topics discussed are about "consent, safety and pleasure," Trace said.
During the school year, Venus Envy puts on between 10 and 20 workshops, Trace says, and the number of students who attend each workshop varies, she says, stating for SMU Q the attendance was about 20.
It also depends on the time of year and the topic of discussion.
In the more general workshops that draw in a larger audience, in which attention is on the sex act for example, there isn't a lot of feedback on the consent part, even though there is a section on consent.
Trace said at Dal this year there was positive feedback on consent from a couple of students.
Any feedback received, Trace says, depends on the specific workshop.
"This is to ensure that we've done exactly what they were looking for and if we need to improve for the next year," Trace continued.
Trace said they also hear a lot from students who come into the shop and provide their personal feedback on the workshops.
Trace said she enjoys having that one-on-one conversation with the students afterwards.
"It would feel weird if we didn't talk about the educational aspect of sex and just sold toys and didn't talk about all the other intricate parts of sex."