Wheels are turning at Dalhousie University
Dal's Bike Centre is creating a safer biking community on campus
November 3, 2014, 9:12 AM AST
Last updated January 8, 2015, 8:55 PM AST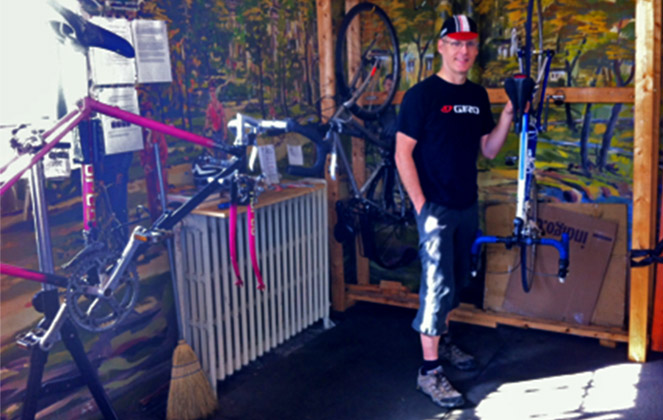 Two-wheel travel is gaining traction at Dal — full bike stands, students with helmets in hand and bikes whizzing to and from class are signs of a changing transportation culture.
The Dal Bike Centre is at the hub of this movement, providing free bike loans to students along with repair services.
Manager Scott MacPhee says the centre is working with Dal's Office of Sustainability to build a segregated bike lane on University Avenue.
MacPhee works in the shop and teaches classes on bike maintenance and year-round bike safety. He says the bike lane will reduce the number of parking spots.
"You're always going to get push back from drivers in whatever city you go to if you take up space that's not meant for cars but cars usually take them, but to be a progressive city or a progressive university you have to take it."
"It's a safety thing," adds MacPhee, explaining that people in his classes worry about the safety of sharing the lanes with cars, and segregated bike lanes provide that space.
MacPhee says this will be the first segregated bike lane in the Halifax, so it is a big step for Dal.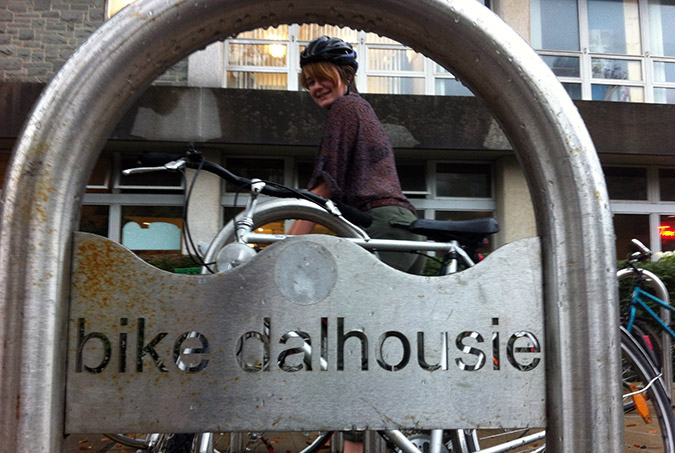 Ali Calladine, a third-year Dal student and bike centre board member, sees room for improvement to cycling in the city.
"I would like to see bikes and cyclists be considered an equal part with cars and pedestrians when planning is happening in the city," she says.
"That is starting to happen but in a lot of ways it's seen as separate. We have systems that accommodate cars and pedestrians and then at the last minute we find out how to fit cyclists into the equation."
Liv Bochenek, a third-year political science student at Dal, relied on the centre frequently this summer to fix her bike's brakes.
"There aren't enough bike lanes or policies in place that recognize cyclists are at a much higher risk than auto-drivers," she says, "and I think the bike centre has a lot of power and potential in making Halifax a much more cyclist-friendly place."
Bochenek says segregated bike lanes on campus are necessary, and the idea can spread throughout Halifax.
Dal students support the centre through the levy approved last year. Each student pays 50 cents a semester, providing the centre with $17,000 a year.
The centre opened in 2009. MacPhee estimates the centre sees 15 to 20 students a day who want to borrow a bike or need repairs. The centre needs a bigger space and more volunteers.
"The more people we have volunteering," says Calladine, "we can really start to create a community around biking."
"Being a cyclist, having a bike and having access to that form of transportation is something that gives us this huge amount of freedom and independence," she adds.
"You can be a lot of places at once, and you can see the city from a different perspective than you could from taking a bus or driving a car."