Wining and Designing in Support of Education
November 1, 2013, 6:48 PM AST
Last updated November 6, 2013, 7:50 PM AST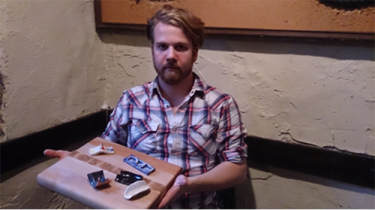 Dinner is not always considered art, but at Dine by Design East, chefs and local architects and designers banded together to create art using food and an empty dining room.
Dine by Design East, a fundraiser for NSCAD University that brings the design community together by pairing local design firms and shops with local restaurants to create a showcase of 10 dining room spaces – each complete with its own menu.
The fundraiser included a gala in early October, and a three-day general admission when guests could view the rooms.
Suzanne Saul and Jonathan Legate put on the event because Saul says there is a "lack of economic understanding of what NSCAD brings to the community." Many people come to Halifax because of NSCAD's reputation, and she wanted to draw attention to NSCAD and "the creative industries it creates."
Attica Furnishings, the store Saul and her husband own, took part in Dine by Design East. "Our store wouldn't have existed without NSCAD," Saul says. She and her husband only started the store because they both moved to Halifax to attend the school, and would never have met otherwise.
She says she was driven to promote the school after the provincial government started putting pressure on NSCAD to cut costs. The government has asked the university to reduce its operating budget in order to receive $1.3 million in aid. Saul feels the university has been unfairly threatened, and wanted to showcase the talent that NSCAD has brought to Nova Scotia.
Saul was pleased with the event. Approximately 300 people attended, and it raised over $15,000 in scholarships for NSCAD. She said there was so many people "it was hard to wade (her) way through the room."
Along with six galleries upstairs at the Olympic Community Centre, there were 10 dining rooms each with its own chefs. Forty appetizers were created and served throughout the gala.
Heath Simpson, a former NSCAD graduate, was paired with local restaurant Gio as NSCAD's contribution to the event and had a shared theme of "unravelled".  Saul said Simpson's dining room "had a gallery feel" and included a multimedia exhibit of several hundred pictures of key pieces out of NSCAD's private collection.
John House, the sous-chef for Gio, spent the night – and most of the day– preparing appetizers for the NSCAD dining room. He presented the food on ceramic plates that Simpson, designed and made.
House, along with Gio head chef Dave Woodley, created four different dishes for the gala. His favourite was one that came on a small curved ceramic plate, and following with the theme, it had its three parts – a warm white bean salad, smoked wild boar sausage and a molasses cracker – separated on the plate.
House said the event was "kind of a bizarre pairing, but kind of cool," when talking about bringing the restaurants together with the designers. And he says he would love to be a part of it again next year.
Saul says she has gotten lots of positive feedback and hopes to make it an annual event. She has also heard from a few companies and people who are already interested in volunteering next time.
List of Participants in Dine By Design East