Winter Bike Week gets underway at Dal
A week aimed at getting more people safely biking the winter roads gets underway in Halifax
February 13, 2015, 3:33 PM ADT
Last updated February 18, 2015, 10:39 PM ADT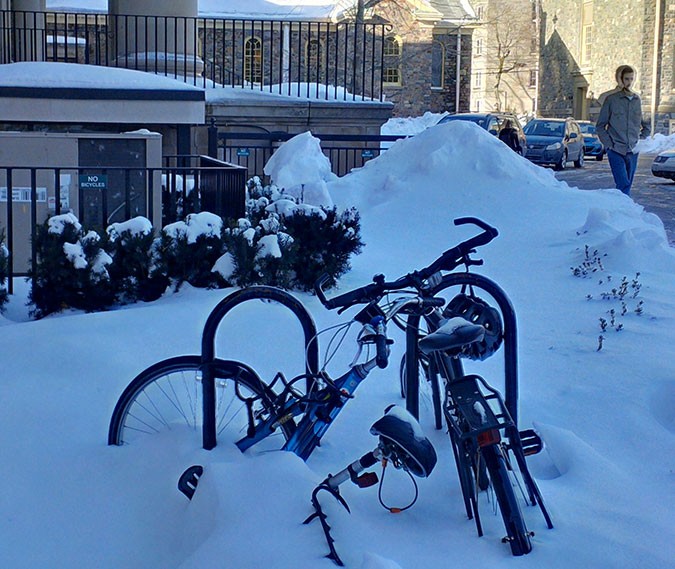 It's almost ironic there's heavy snowfall forecasted for the weekend — Halifax's Winter Bike Week began Friday, which is also International Winter Bike to Work Day. If you're going to cycle to work in the winter, especially this year, it seems Mother Nature is set on making it as challenging as possible. But the Dalhousie Bike Centre, one of the participating institutions in the week-long festivities, is committed to seeing bicycling become an all-seasons activity.
The main purpose of Winter Bike Week is awareness and education, says Mitchell Melanson, internal co-ordinator at Dal Bike Centre, which offered free hot cider, tune-ups and snow clearance from bike racks for faculty and students who biked to campus.
"The only thing that protects cyclists is more cyclists. One less person driving is always a good thing and it promotes awareness for drivers to the fact that there are winter cyclists," he said.
While biking during the winter seems like a good way to get exercise, beyond the requisite shovelling, it has its dangers.
Halifax Police released a breakdown of vehicle/pedestrian collisions for January to November of last year and the numbers paint a bleak picture for the winter months.
There were 280 reported incidents during the 11-month period and 57 of them involved bicycles. While a month-by-month breakdown of bicycle incidents isn't available, the pedestrian incidents for 2013 and 2014 show a similar picture. During the winter months, when visibility is at its worst, the number of pedestrian incidents climbs, sometimes by five times, over the summer months. November 2014 saw the highest in the two-year period with 39 incidents reported.
While this doesn't directly apply to cyclists, the safety risks associated with winter that pedestrians face — low visibility, ice, poor snow clearing, cars — definitely apply to cyclists. Melanson said the best rule of thumb is confidence.
"There are days that I would ride, but if a less experienced cyclist isn't feeling confident, then perhaps don't go cycling. Ride to your ability and pay attention to the roads."
Melanson said that high-visibility clothing as well as lights, which are required by law after dusk, are paramount. Respecting the rules of the road and being predictable in your movements and directions are also integral to sharing the road in a respectful and safe way.
The city is well aware of the rise in incidents and launched its Heads Up Halifax campaign in October 2014, with a second wave of campaigning planned later this month.
These folks didn't get the memo. @copenhagenize MT @ConradBros Biking in winter. An accident waiting to happen. pic.twitter.com/pPU7QNRJ9Q

— Halifax Cycling (@IBIKEHFX) February 13, 2022
Most of the winter it's perfectly safe. Until we get protected bike lanes we encourage cyclists to take the lane in the snow. @ConradBros — Halifax Cycling (@IBIKEHFX) February 13, 2022
Winter bike to work week is a thing in #Halifax ?? Oh man… The streets aren't ready for that here.

— My Name is Earl (@Earl_of_Halifax) February 9, 2022
Melanson said that having more people out cycling will help bring change to Halifax, which still has a lot of work to do before the city is totally bike safe.
"More infrastructure is needed, such as protected bikeways. Clearing the existing bikeways would be helpful — we just spent a bunch of money on Bobcats for the sidewalks, why not clear the bikeways too? Halifax is lagging behind other major Canadian cities in terms of traffic code and infrastructure."
Resources for Halifax winter cyclists:
Dalhousie's Bike Centre is a great resource for students and faculty alike. The first step to a safer ride is getting to know the laws.
Halifax's Mountain Equipment Co-op store is getting in on the action this week and has plenty of tips and tricks for making a bike winter-ready.
Halifax's Cycling Coalition has riding techniques to help plow through slush and snow safely and confidently.
Keep up to date with all the planned infrastructure changes through the city's online portal.