Winter coat giveaway attracts thrifty, not needy
Event sponsored by ministry, international association aimed to help Asian students who might be unprepared for Canadian winter
November 28, 2013, 11:35 AM AST
Last updated November 28, 2013, 6:26 PM AST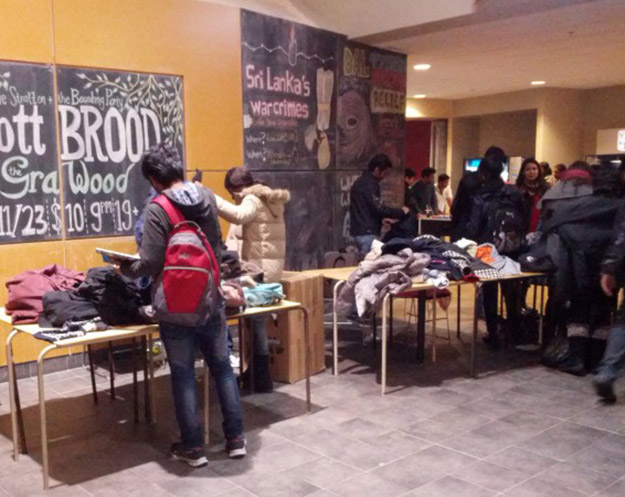 Almost 50 international students at Dalhousie University lined up early Wednesday evening at the Student Union Building to receive free winter coats.
Aishwarya Kamat was among them, though she initially held back from joining the line, standing off to the side, instead.
"I want to pick something," she said, "but it's pretty crowded right now."
At that point, students were standing, most of them in twos, in a line that stretched from a row of desks set up against the chalkboard wall, out around a pillar and past the information desk.
"By the time I reach (the front of the line), I'm sure everything will be done."
The 23-year-old, who's studying rehabilitation research in physiotherapy at the graduate level, said, before joining the line, she isn't in "desperate need." But "If I find something good, then I will take it."
Asked if she's ready for a Canadian winter, Kamat, originally of India, said, "Oh, yeah. I am pretty much ready," explaining that she has a winter coat, shoes, gloves and a hat.
Preparing for this season is "a little expensive," said Kamat. "Obviously if you want a number of coats, then you need to pay extra.
"That does put a financial strain."
The giveaway, which is new this year, was a joint initiative between the House of Intercessory Prayer Ministries and the Dalhousie International Student Association.
The church has started a student ministry at Dalhousie, which meets each Wednesday. During these meetings, church members "identify (the students') needs and what way we can be of help," said senior pastor Balan Swaminathan.
"People coming from Asian countries, most of the time they are not prepared; they will not have seen such weather in their countries," he said. "We thought we could be of help to them in terms of providing their winter clothing."
Farther ahead in line, Chenlu Shao was standing with a friend she met at karate. She was there looking for a winter coat, but "no specific one."
The 25-year-old, who came to Dalhousie for the master of economics program, said the costs of being an international student make preparing for winter "a little bit" difficult, "but not very much."
If not for the giveaway, "I might try to survive with my current clothes. If not, I would try to go get (a thicker winter coat) by myself."
Shao, originally of Shanghai, China, was unfazed by thoughts of the approaching season: "I heard it's not that bad."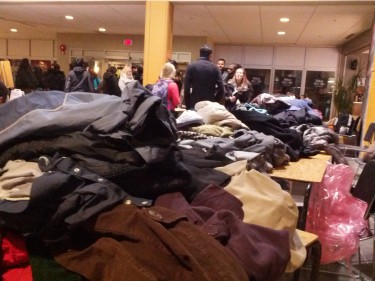 At the front of the line, Pankaj Mehta, 25, had just chosen a tan-coloured trench coat.
"It's cool," he said. "It's kind of new, for sure. No stains, nothing bad. I feel like it's new, and so I chose this one.
This will also be the first Canadian winter for Mehta, who's also from India.
"People are starting to scare me that it's going to be chilly," said the master of engineering student. "But I'm good to go with that."
If Mehta had not come to the giveaway, he would have bought himself a winter coat.
"I found something really good and free."
Twenty-five-year-old Vineeth Varghese was also standing near the row of desks on which the coats sprawled. Unfortunately, the master of computer science student couldn't find a coat his size, and said he'll have to buy one, instead.
Varghese is excited for the first snowfall. Arriving from India four months ago, he's never seen snow.
Altogether, and thanks to the Salvation Army, there were between 75 and 80 coats to pass out.