Woman assaulted near Dal
A 23-year-old woman was head-butted, nearly robbed Thursday night
January 31, 2014, 4:22 PM AST
Last updated January 31, 2014, 4:26 PM AST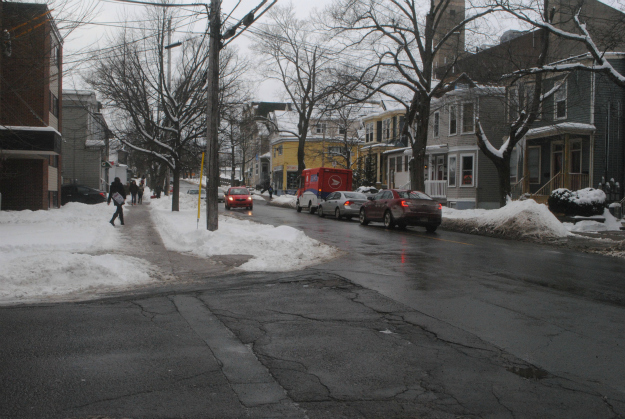 A 23-year-old female was nearly robbed and sexually assaulted near the Dalhousie campus on Thursday night.
The incident occurred near the intersection of South Street and Edward Street at approximately 9:45 p.m. last night.
The victim told police she felt someone was following her and crossed over to another street. She then felt hair being tugged and the hood of her jacket being pulled off.
The suspect demanded the woman's wallet and became increasingly aggressive, even head-butting her at one point. Then woman then dropped her wallet, however, the suspect suddenly fled the scene without it.
The woman told police the suspect was making sexual remarks and at one point pushed the victim with both hands on her breasts.
Police say the woman then ran to a nearby Dalhousie building and called a cab to bring her home. She was not injured.
Police are searching for a white male aged 40-45. He is said to be between five feet eight inches and five feet nine inches tall, weighing 220 pounds.
He was wearing a black raincoat-style jacket, dark jeans and a black baseball cap at the time of the incident.
The woman told police the man's speech was slightly slurred.
Morgan MacLean, a student at Dalhousie, says she has friends who live near the exact location where the incident took place.
"It's really worrisome," said MacLean. "I don't want to have to feel like I'm not safe walking back and forth to my classes."
MacLean says that although she generally feels safe in the area, incidents such as the one that occurred last night are cause for worry.
"Try to stay with people you know and trust. Stay in numbers. Make sure you have something on you to call for help," says MacLean.
Anyone with information regarding this incident is encouraged to contact Halifax Regional Police.